The choices of colours for a new married couple bedroom, impart a soothing effect in their room if chosen right. It is better to let colours whose effects will be great on your environment and soul. Love is expressed through colours and romance. Warm thoughts and light with grounding elements are perfect for a continuing atmosphere for a newly married couple. We at Home Glazer, always provide the colour of happiness that keeps everyone energetic and memorable. We provide the best colour guidance and free colour consultation.

SOME OF THE COLOURS ARE GIVEN BELOW:
1. RED – START A FIRE
Red, starting a fire goes perfectly into the most romantic setup of a newly married couple. When it is a matter of romance, one of the most romantic colours comes is Red. Red can be incorporated with a variety of accents like brick, goldish for the background part. Generally, pairing different shades of red is captivating and soothing. It may be the first choice of romantic couples, the right shades of red invoke you to a cosy space.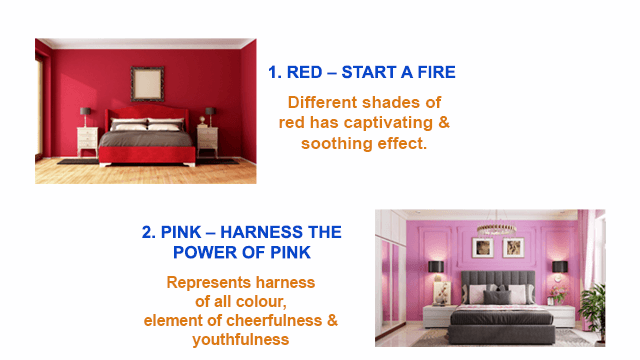 2. PINK – HARNESS THE POWER OF PINK
Pink is termed as the harness of all colour, with an element of cheerfulness and youthfulness. It makes happy memories, despite being more feminine, it is a perfect shade for each other. Pink is blush, bashful, the soft pink of interior colours, and streaks fresh while mixing with classic colours. It is mostly famous among females and it gives vibes of love, romance, and softness. Reminiscent of pink is accepting love and the perfect colour choice for a newly married couple.
3. ORANGE – GLOWING ORANGES COLOUR
Orange is one of the shiny sun colours which reflects most strongly the relationship of a newly married couple. This is interesting orange make bedrooms just pop with colour and vibrant colour makes it intimate. I was so pleased to see bold colours because it adds extra perk to the bedroom with a perfect pack of playful colours in neutral spaces. The bedroom feels full of life with these romantic tones. These colours are in various shades such as metallic orange, flowery orange, and subtle orange.
4. PEACH – PEACHY DUNN PERFECTION
Another favourite colour, peach mentioned as one of the warm shades of pink. As among neutral spaces, accents of pink and coral colour balance with background elements. The peach colour is delighted that there is no declining nature in it. Peach is one of the colours which goes with all types of patterns and design styles. With a perfect balance of colours, it pops shades provides a contrast to the bedroom's look. It adds a big dose of cheerfulness and a restful environment.
5. YELLOW – HELLO GLIDDEN YELLOW COLOUR
The hello glidden yellow-painted walls of bedrooms show elements full of nature. It is invigorating and sunny in nature and cheery shade used in bedrooms. Just a hint of other yellow tones warms up the lovely contrast with the white combination. The neutral colour also goes with a perfect match of shades of creamy yellow.
6. GREEN – EASY BEING GREEN
Green is the most natural and wonderful colour which helps to keep everything real and romantic feelings towards each other. It imparts simplicity, is natural, and is more structured. Generally, it is lounging in cool nature like grass on a summer day and brightening the day. Furthermore shades like verdant grass, intense emerald, and regal shade of green add mysterious depth.
7. BLACK – SHADOWY COLOUR
The black shadow colours are great for indulging in more captivating, more romantic shades. The combination of different colours in black turns easily sink with tones and coincides well. Black, itself an extremely classy colour which especially tones up to all the way. There is no exception about black shades into romantic moods and boldness to the newly wedded couple. The mixture of a lot of colour with black looks gorgeous in a great way.
8. PURPLE – PEPPY PURPLE
Pretty purple includes some bit of contrasting light which keeps the mood of romance and romantic vibe. Purple is usually accented with gold, commonly termed a romantic colour. It shows royal classic texture with romantic tones. These deep colours bring cosy moments between the couple and fit in with all neutral colours.
9. MINT – MINTY FRESH
Mint is usually the shade between darker green and blue which inspires master bedroom colours. It adds mother nature light balancing deep shades of pale grey and draws everybody's attention to the white-painted high ceiling. The soft mixture, watery shades show the restful and peaceful nature of bedrooms. This adds a welcoming space with a cool contrast tone with subtle design styles.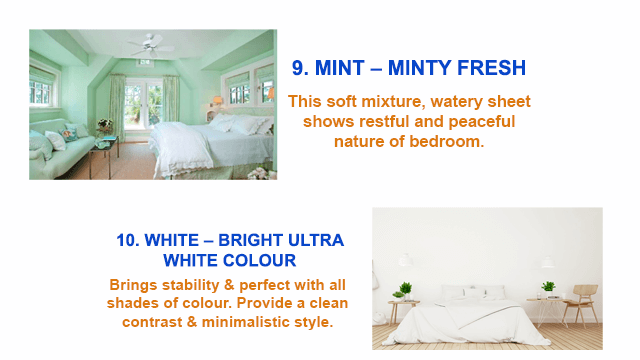 10. WHITE – BRIGHT ULTRA WHITE COLOUR
White brings stability and perfects with all shades of colour, saturated shade reminds summer days. It provides a clean contrast and minimalist style. Cool and subtle collected for true white, ultimate neutral, and appearing fresh. It can be more of ultra-white, true white, and bright white. The white colour for walls is just the right mix of fun and sophistication.
11. GRAY – POWDERY PERFECTION
Gray is divided into various categories like soft grey, powder grey, and grey with pink. This colour makes the bedroom look so pretty and naturally romantic for a newly wedded couple. The element of grey with every colour turns into a fantastic combo with a bold background. The painters usually add a mixture of a bit more reflective of the shade of black but a bit lighter than that. It is a classic contrast colour that shows warmth and minimalist space.
CONCLUSION
So, among all the colours which are going to be your favourite based on comfort? These are some of the best colours and you could make a great colour combination with different accents. If you're looking for a reliable and professional painting service that can help you choose the perfect colors for your home, look no further than Home Glazer. Our team of experts will work with you to find the perfect shades for your space, whether you're looking for something classic or trendy. With our colour consultation services, you can be confident that your home will look its best. At Home Glazer, we use genuine and branded products, also we are a trustworthy painting contractor company for many years, so what are you waiting for? Contact us today to know more about our interior painting services or to schedule a free consultation.
Relevant Posts