Do you have a running business and planning for painting? Have you decided how you will proceed or are you still in the dark? Read this article to find what the best time for painting a running business is. And of course, it is true for other sorts of renovation ideas too, with little changes.
The colour of the things we see often shapes our attitude towards them. Thus, the paint is the most important visual feature of any building be it a house or an office. When it comes to businesses, the paint job assumes a more important position.
Some important benefits of painting your business space
Painting your office, your business, and the place of your work is an important decision. There are a lot of benefits of painting your workspace regularly. Following is a list of reasons why should you paint your business:
If you are starting a new business, you would need to paint the business space in your colour. No one would want their business space to look like it belongs to someone else.
The aesthetics of a workplace or business space are very important, especially the interior painting. Regular painting of your business space keeps it looking fresh and attractive like restaurant, hotel, club, etc.
The colours have a great impact on the behavior of people. This means with a new colour scheme you can give a fresh mood to your employees and customers that will increase the productivity too.
Painting your business space isn't just colouring it. You can add designs, textures, paintings, graffiti paintings, and quotes to the walls to make them even more attractive.
Paints play an important role in wall protection. Modern-day paints come with waterproofing techniques too.
Best time for painting your business space?
Now since we have discussed why painting your business space is important, let's move to the question of when. Time is a great constraint in doing any work. If you plan to paint your shop or office, it isn't a single day's work. Scraping off the old paint, smoothening the walls, and priming, then painting and waiting for everything to dry. Painting is quite tricky as most people know.
To ease this problem a bit, business owners or managers should always hire professional painters. They do the work fast and efficiently and give us lasting results. But here are the other points to consider.
What is the nature of your business or work? Is it active during the day or night or evening? This is perhaps the biggest question about painting your business space. You must always schedule painting when there is the least rush or when the business is over for the day.
If you have a business space that is active during the day, like saloons, or shops, you need to plan to paint them during the night.
Ie a business space run during the night time, like clubs or bars, they need to be painting during the day or early morning.
For businesses that are open for most time of the day but have peak time, like shopping malls and movie theatres are most busy from the evening tonight, it is advisable to paint when you have the least rush.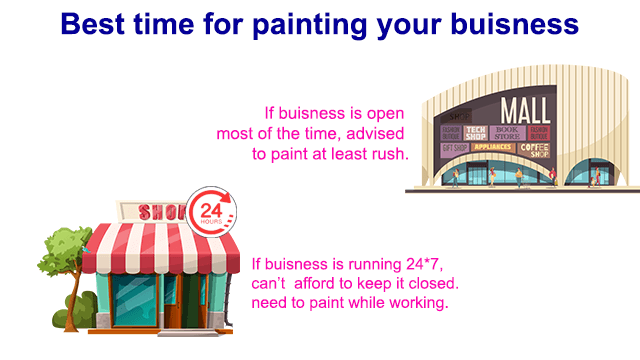 In case your business is running 24×7 and you can't afford to keep it closed, you need to paint while working. But this is a lot tougher than you think. Let's discuss those points too.
Firstly, is your business line suitable to continue during painting. For example, restaurants and bars should not be kept running during painting. This is highly unhygienic and can also be against the law. You need to make sure that running your business while painting is perfectly safe.
In case it is safe, you need to consider the space available in your office or shop. Is there enough room for the work and painting to go on together? Will it be really convenient for you, your employees, and the customers?
Painting a space while running the business should always be done in discrete units. One wall and one corner at a time, so that minimum disturbance is caused.
Care should be taken that there is enough room for ventilation of the fumes coming from the paint.
If your business space is in a building complex, you should also take care that you do not cause them any discomfort too. If things go bad, you may end up with a lawsuit.
Let's talk about the broader aspects, early summer is the best time for painting any business space. The paint dries fast and effectively. Rainy season and season of winds, dust, and pollen release is unfavorable to a good paint job.
Painting your business space is a tricky task and often takes some days to complete. It is essential to keep your employees, customers, and neighbors informed about the work in progress. There should be clear signboards about the work going on. This will be the best way to complete the job safely.
Conclusion :

At Home Glazer, we offer professional painting services for business and office spaces. We understand that commercial painting can be a daunting task, so we take care of everything for you. From preparing the surface to painting the walls, we'll take care of everything. We also use only the highest quality paints and materials, so you can be sure your office will look great for years to come. We work closely with our clients to ensure that the end result is a space that they can be proud of. If you're looking for a professional and reliable commercial painting service, Home Glazer is a perfect choice. We offer a wide range of painting services to suit your needs, and our team of experienced and skilled painting professionals will be happy to help.
Relevant Posts