Are you looking for getting your walls to get painted? There are many instances with understanding which emulsion paint will be suitable for your wall and what is the basic purpose of various types of paints available in the market. This makes it confusing for a layman to understand what to pick and what will give their homes an outstanding makeover. If you are one of them who is facing the hard part to come to a conclusion, you have come to the right page.
Firstly, you need to decide whether you are looking to repair your walls by giving them a repaint and need a high-quality washable paint or you are going to freshly paint your walls and give it a shiny and glossy look. Once decided, you can give us a call to have a better understanding. We work our best to help our clients with our extremely experienced team. Our team has the potential to turn a raw apartment into a welcoming home. For this, let us educate ourselves on the difference between an Apcolite Premium Emulsion and Royale Play Luxury Emulsion.
But first, let us understand the basic meaning of Emulsion
Mostly, the interior walls and the exterior surfaces of a building are painting by using emulsions. Emulsion paints are nothing but water-based or plastic-based paints. These emulsions are available in a diverse range which includes after paint quality being matte finish to silky smooth finishes. As the plastic in the paint increases in proportion, the smoothness increases at the same rate. These emulsions in a layman's language are commonly popular as washable paints. Thus, letting people get the advantage of washing their walls without spoiling the paint. Therefore, the paint lasts for longer on walls.
The main features of emulsion/plastic paint are that they are mildew resistant, easy to maintain. Plastic paints are available in a humongous range of colours. Also, applying plastic paint on walls is much easier than other paints and they quickly dry out. All variations of exterior paints have a variable set of properties that vary according to the climate of the region. This includes the resistance of the paint to protect itself from heat, dust, and rain.
But when both are emulsion paints then what is the difference between the two?
All emulsion paints refer to plastic paints but Apcolite Premium emulsion is a normal washable plastic paint. Apcolite premium emulsion is available at a cheaper rate and does not have premier qualities such as matte finish. Whereas, Royale range refers to plastic paints that are of advanced quality and are a leader in the decorative paints segment. There exist more classification in such as Royale Luxury, Royale Matte and Royale Shyne if we just consider Asian Paints categories for instance. Royale paints to date are the best paint to give the most beautiful finish to homes making them a classic luxury and last longer than Apcolite interior emulsion.
Apcolite paints may contain water and not always be plastic as the range keeps on changing as per the demand of a customer. On the other hand, Royale will always come as a high quality plastic paint and hence they are easy to wash as plastic has a tendency to get rid of dust even with a small run of water. This is the main reason that bedrooms and living rooms are painted with Royale as getting rid of dirt becomes easy. Moreover, when children at home have a tendency to paint on the walls, it becomes easy to clean them with just one wash.
The general characteristics of both are as follows:
Apcolite Premium emulsion
Premium emulsion paint is high in quality and best for bedrooms and living rooms as it has the capability to give richness to the walls by empowering a smooth finish. To add a value addition, it ensures that the walls remain dust-free and that the paint lasts for a longer duration.
An Apcolite Premium paint will require a proper wash and clean of algal and fungal growth at regular intervals which are half-yearly for better durability. If the paint has been applied for the first time, it requires 3 coats but if the paint is reapplied, 2 coats are enough for a good look.
Apcolite is water or plastic-based wall paint on acrylic offering a smooth finish. They are easy to maintain and have longer durability along with being humidity resistant. Hence they are applied on kitchen and bathroom walls even when the bedroom and kitchen have Royale paint on them.
Clean easy
They are easy to wash and clean, offering a lavish finish. They come with a warranty to set themselves free from stubborn stains and hence always stay flawless.
Affordability
A common man can easily afford Apcolite Premium as it's cheaper than Royale.
Durability
Being pure acrylic latex and high in opacity micro-pigments, Apcolite Premium's surface is tough. This quality makes the wall durable and easy to wash from stains.
Where to apply Apcolite Premium emulsion?
Apcolite Premium Emulsion can be applied on all walls such as interior and exterior along with concrete surfaces, kitchen, bathroom, false ceiling and every other place for a smooth finish.
How long does Apcolite Premium emulsion last?
On average, the life span of Apcolite Premium emulsion is 4- 5 years.
Various types of Apcolite Premium emulsion?
Apcolite Premium Satin Emulsion: It is easily washable and offers excellent stain resistance, thereby maintaining the beauty of your home for decades. This satin finish paint ensures that your walls will have a long-lasting flare on them, as it can withhold many wash cycles.
Apcolite Advanced Shyne:. It is an advanced technology paint acting as a stain guard which makes cleaning the walls a cakewalk. Thus, is considered a perfect choice for the high traffic areas of the house as well.
Apcolite Advanced Heavy Duty Emulsion:. 
Apcolite Advanced Emulsion is designed to protect your walls against the unwanted fungus that can cause considerable damage. It ensures lower stain pick up & easy clean-ability for different kinds of household stains. The paint offers a rich matte finish which helps in hiding surface undulations.
Apcolite Premium Emulsion: Apcolite Premium Emulsion provides a rich and matt finish to the wall due to its super-acrylic quality.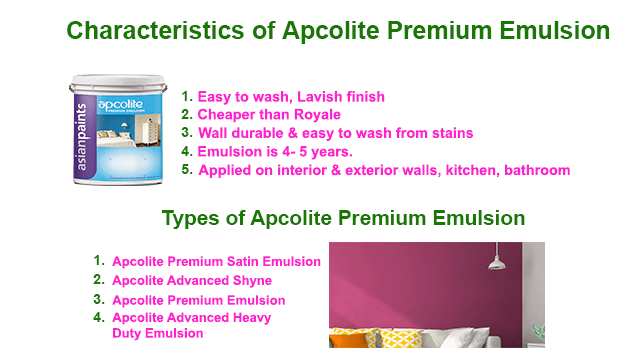 Royale Play Luxury Emulsion
Royale paints are the option to pick when you are willing to go a step ahead in terms of luxury and magnificence. They not only are a sign of opulence but also are recognized to bring out the best finish to the walls.
Royale Paints are superlative and have minimal flaws which are generally negligible and to date, it is considered to be the best range of paints available in the market. Basically, they are a range of luxury paints providing a glorious makeover and bringing in sophistication to one's home. From being easy to maintain, to having less odour along with having lower VOC than others, it's best to apply if you have got children to have a home. Royale paints guarantee a soft and smooth sheen finish which as of date is not available in any other type of paint.
Easy clean
Dirt and stains can be promptly cleaned in a nanosecond without any trouble by using a soft cotton wet cloth. Royale has got a fortified Stain Guard technology which has the potential to protect walls against tough household stains.
Affordability
Luxury Royale paints are ranged at a higher side when compared with budget paints. When compared with respect to durability and finishing, they are worth every penny.
Durability
Being plastic paint, they are durable and have a longer life than water-based paints. They are known to intensify the numbers for years and thus technically becoming affordable and proving to be an investment in luxury.
How long does Royale Luxury emulsion last?
On average, the life span of Royale Luxury emulsion is 6- 8 years
Where to apply Royale Luxury emulsion?
Royale Luxury emulsion is for interior walls and not exterior or surfaces such as wood or metal.
Various types of Royale Luxury emulsion
Royale Luxury Emulsion:. It's the only paint emulsion in India equipped with a Teflon surface protector which makes it easily washable and highly durable. It is a non-toxic, lead-free, low VOC and odourless paint that protects the walls from tough stains & harmful bacteria. At Home Glazer, we highly suggest this paint for the household if you love the sheen on your wall.
Royale Matt: Royale Matt Luxury Emulsion gives the perfect matt finish to your walls. It's the only washable matt paint emulsion in India equipped with Teflon surface protector that makes it very durable. The toughest household stains like turmeric and ink are reduced to a large extent. Whereas water-based stains such as tea, coffee, etc. are completely removed with this washable wall paint. Its anti-fungal and anti-dust properties ensure the painted surface retains its finish for years to come. For perfect matt finish, Home Glazer suggests you use this paint for your house and office.
Royale Health Shield: Royale health shield paint is a revolutionary indoor Anti-Bacterial paint. Royale Health Shield Luxury Emulsion is equipped with Silver Ion Technology which kills 99% of infection-causing bacteria on the painted surfaces. Thus, providing a more hygienic environment at home.
Royale Shyne Luxury Emulsion:. A high sheen, washable wall paint with a stain-resistant finish ensures walls look new for a long time. The paint's high gloss and even smoother finish would make you want to stare at it all-day
Royale Aspira:
Royale Aspira is the world's most technologically advanced interior emulsion paint.- Royale Aspira is crafted to give your interior walls the highest sheen and the smoothest finish. It is the best-in-class durable and washable paint possessing innovative water beading technology and Teflon surface protection. It is one of the foremost fire-resistant paint in the market. Moreover, it is an exceptional crack-bridging paint, stretching almost 400% to ensure cracks remain covered and walls stay beautiful for years.
Royale Atmos: A first-of-its-kind interior paint that not only looks beautiful but also helps purify the indoor air quality. Its Activated Carbon technology reduces indoor air pollutants such as formaldehyde, VOC, and malodour from the air making it cleaner than before. Additionally, Royale Atmos is an eco-friendly paint that absorbs and reduces select foul smells to make the air fresher. This Royale Atmos is Asian Paints' first scented paint to have a fragrance that lasts for weeks after painting.
Royale Lustre: An interior wall paint that gives a durable finish to your walls for many years. When a professional painter applies this paint with a roller imparts a characteristic Dana pattern on to the wall. That looks too good. One of the unique features of this interior paint is it's anti-fungal. And it protects you home from all kinds of fungal growth.
Conclusion
The conclusive decision always remains after understanding the requirement as per individual needs. One should consider the options wisely after knowing for how long they are willing to stay in the same house. And how much money are you planning to spend?
Give us an opportunity to showcase our manner of remodelling your homes!
At Homeglazer, we provide first class wall painting services which transform bare houses into beautiful homes. The best part about our company is that we have packages which can fit in the limits of every household. This way we can bring our artistic quality to your doorstep and restyle your home. We believe in working hard in the correct way by retaining professionalism and promising to deliver service within fixed timeline.
Relevant Post