Wood furniture enhances the decor of a home and if it can do so much to your home, then before installing it, a proper finishing must be done. Nowadays, a huge category of coating materials is available. It becomes quite important to choose the best. Home Glazer helps you in deciding which suites best to your home décor. To give a final finish and a fine texture to the wooden surface, two major types of polish is used that is polyurethane (PU) and polyester coatings.
These coatings protect the wood from scratches, dust, moisture, and deflections in shape. There are a few differences in the parameters of type, finish, applications, advantages, disadvantages, and durability. Since these two coatings bring a clear hard layer to the furniture, and hence arising a question which one works better? We will discuss the difference on the basis of major parameters.
Components:
Polyurethane (PU) is based on either a mono-component or bi-component product. Home Glazer makes use of the two components resin and catalyst. The PU gloss comes in both, water-based and solvent-based.
Polyester polish is based on a three-component product. It is made utilizing resin, catalyst, and accelerant. Polyester polish comes in French polish and melamine based polish.
Area of Use:
PU gloss polish is perfect for interior and exterior use. Solvent-based PU polish is highly recommendable for exteriors. PU gloss goes good with wood, metals, plastic and glass furniture, and ideal for industrial applications.
Polyester polish is basically used for interiors. Its use is not limited but moreover is used to wooden furniture especially on flat areas of the item like the top of the table so in today's era its application increases in residential houses.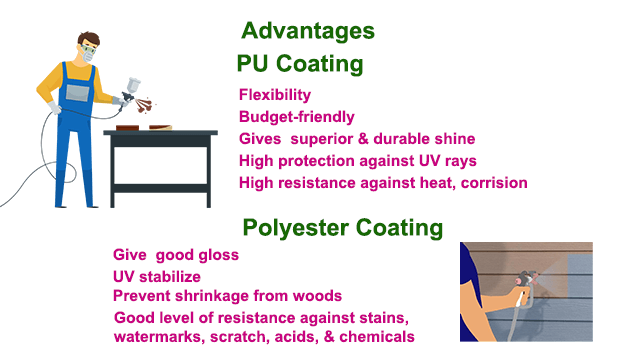 Advantages:
PU coating is good in class which provides excellent flexibility. As it delivers a strong coat, PU polish or paint is in high demand as compared to polyester polish. The reason to love PU coat is that it gives a superior and durable shine that protects the wooden surfaces from scratches and stains and it is more budget-friendly than polyester polish. Though it comes at lower rates, this increases its demand in the market. A variety of finishes is achievable from dead matt to a very high gloss, smooth finish, and high solid coatings. It brings high protection against UV rays and weathering. Talking about mechanical properties, PU coat contains high resistance against heat, excellent hardness, in-depth clarity, and corrosion-resistance. Versatile properties like good electrical insulating, low odour (water-based), and environment-friendly characters also possessed by PU coatings. In common language, it doesn't leave hot cup marks on the surface.
The polyester coating is majorly used to give a good gloss to the wooden surface or you can say that it used basically to add beauty to the furniture. It brings a good level of resistance against stains, watermarks, scratch, acids, and chemicals. It can also prevent shrinkage from the woods of furniture. Polyester coats are also UV stabilize.
Disadvantages:
Polyester polish may charge a little costlier on the pocket than PU polish. So if cost really matters, you can go for PU coatings to your furniture.
A polyester polish is dull and its shine may not last long so if the hassle-free finish is require, PU polish should be chosen.
PU polish gets darker over a period of time while with the passage of age polyester polish becomes yellow.
PU polish requires extra attention when implementing on the surface while polyester needs a lot of men labour and hard work.
What HomeGlazer recommends:
Home Glazer had found out that PU polish is a heavy-duty full package product that offers complete protection for your surface whether interior or exterior with maximum durability. Due to its versatility its popularity used in automobiles, metals, wood-based products, and furniture. PU coating is a preferred industrial coating worldwide.
Polyester coating in terms of finish, hardness, high gloss, scratch resistance, and adhesion is the best available in the market. Due to these properties, it is a preferred choice in the luxury furniture segment but not for exterior applications.
Relevant Posts