Painting the walls in another home or expansion may appear to be a basic undertaking, however, if you need a painting expert completion, it may not be as simple as you might suspect. New walls require some additional work on the off chance that you need to wind up with top-notch paintwork. The key is setting up the walls effectively and utilizing the correct instruments and supplies so the paint sticks to the drywall appropriately and gives a smooth, even completion.
Let's discuss construction painting techniques and painting a new build.
1. Priming the surface:
For certain surfaces (POP Punning zone and drywall), one layer of primer to be applied before the final coat of paint. Due to the preliminary's cement quality, it makes the ideal surface for putty.
2. Coat of putty:
Putty is a compound blend of certain components, for example, white concrete, chalk, and so forth 2-3 layers of putty give a smooth base to the roof and walls for paint.
3. Sanding the Uneven Surface:
We utilize fine-grit sandpaper, as 150-grit or 180-grit, and go over the walls daintily in a roundabout movement to expel the free and little particles. At the point when the coarseness of one area gets secured with dust, we change to an unused segment and proceed, after this, we wipe down the walls with a dry material to expel any residue.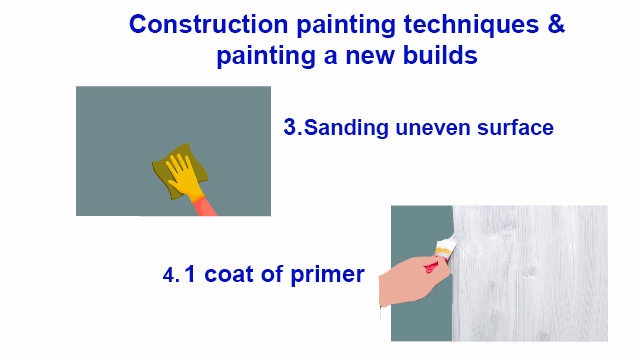 4. One Coat of Primer:
Primer makes a smooth base for the last paint shading and it's likewise savvy to prime before painting. It prevents stains from seeping through. It additionally improves paint attachment, bringing about diminished rankles and stripping.
5. 3 Coat of Paint:
We start with the roof and walls later. We move rapidly starting with one area then onto the next to ensure the paint along the edge doesn't dry before we paint the adjoining segment. This causes us to dodge the laps marks. We need to wait for the primary layer of paint to dry totally. We paint second and individual coats with similar considerations and methods.
6. Cleaning:
After finishing the paintwork, our group guarantees the site we have painted is totally perfect. We clean every spill or splatters of paint and handover the spotless and clean territory to our customer. Our work is finished when the client is happy and then we leave the site. We leave on satisfaction and no mess in the site.
Team Home Glazer believes to be the best when it comes to painting. We paint the newly constructed house more lively and joyous with suitable colours. The services provided by our team have always been cherished by our client. So, hurry up and book us online. Booking and price estimate you can get sitting at your home. Don't miss the opportunity of availing our best affordable deals.
Relevant Posts