The interior and exterior colours of your house designate your social status and sense trend. While choosing the trending colours, you have to make sure that you look unique in your locality at least. While deciding the basic colour you need to keep in mind those things which are not going to change sooner. So that it complements the basic colours. Moreover, choose colours which are soothing to your eyes. This is because the paint stays for a longer time and nobody does it for just 1-2 years. It has to be there for years. Therefore, it becomes extremely prudent that you select wisely.
Your name should tell the story of who you are and be a collection of what you love brought together under one roof. -Nate Berkus
The best part about choosing the colours for walls is that you can use various shades of a single colour! You can colour the edge and the main walls with different shades of a single colour. It's will give your house a touch of mystery and make it look alluring by just distinguishing the types of paint. You can also add on wood and metal on the exterior of your house as it gives a cool and long-lasting kind look to the house.
"Everywhere you eye travels in four home, it should land on something that resonates with you". Although the colour is a very personal thing. You need to make sure to choose a colour that makes you happy. But I don't recommend accent walls – choose a colour you can live with on all four walls."
Here are some of the most trending colours for a house that's gonna make your job easier.
Trending Colour 1 : Soft Clay
If you want to give your house a look of wanderlust and an earthy spirit then soft clay will be your best choice. Soft clay colour paint is a great alternative to beiges and browns as they will land any room a certain sunny zest and casual elegance. Think terra cotta, caramel, clone and brunt orange house interior colours with soft clay as the exterior is a perfect match that has more personality than any neutral ever could. The right professional painters will help you to fix an apt quote for your choice.
Trending Colour 2 : New Blue Paint Colours
For the traditional lovers with a casual approach to interior design, charcoal blue, ice blue, grey-blue, and a very pale powder blue are perfect options. When you are looking for paint colours that are from everyday set yet subtle enough to not take over a room, new blue paint colours will prove to be magic!
Trending Colour 3 : Rain Mist
Add texture to your walls, royale play offers for an array of special effects for the interior walls. A non-colour of sorts, mist house interior colours may come from a blend of muted pastels blue and green with a grey and lilac undertone but it's far from an Easter egg hue.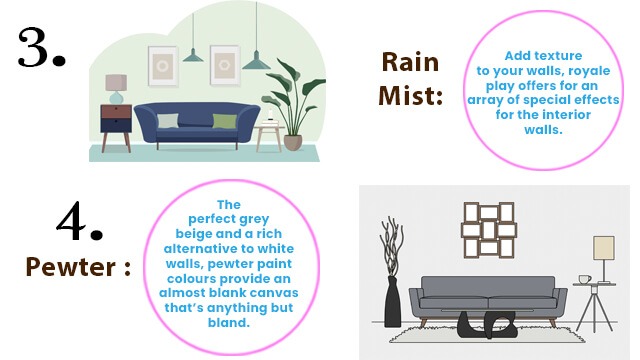 Trending Colour 4 : Pewter
The perfect grey beige and a rich alternative to white walls, pewter paint colours provide an almost blank canvas that's anything but bland.
Though there should have been a standard before it was shortlisted as one of the best paint colours for 2019. This is one colour trend not to be underestimated in fact. At Home Glazer we suggest taking pewter paint colour ideas throughout your house rather than just to one room as it, one shade that works with everything, everywhere.
Trending Colour 5 : Earth's Season
Suck welcoming and soothing colours. This palette beckons to those that are seeking, a calm and serene oasis. These are very similar to the neutrals found in nature but a more muted and calming effect. Instead of all the shades of nature, this focuses only on the subtle and soft palettes of Mother Nature with the soft colours of the sand forest and sky. A reminder of the beauty all around us!
Trending Colour 6 : Nourishing Neutrals
Rick blues, ripe olives, bright greens have a sense of calming simplicity. These colours are considered neutrals by nature. These colours bring a sense of nature with their natural hues of blues and greens inside your space. This is a trend that will be here to stay for a long time. People are adding life back into their spaces and beautiful natural colours.
Trending Colour 7 : Now The Night Watch
Last but not least! An interesting name of the colour, Night watch describes a dark, intimate rich green. It's very dark and reflects a mood of lavishness and poise. When asked to describe this colour in a single word, many experts answered: "impactful"
The impact is certainly the word to describe this phenomenal new trend. Many homeowners liken it to the feeling of being in a dense forest or in a deep secret hosting important dignitaries. If you want your house to make a statement, then this type of eccentric colour is certainly the direction to steer towards.
To understand and select such a beautiful range of magical colours for your house, contact Home Glazer for a free quote. We provide various ranges of services that will suit your entire painting requirement as we are the best and professional painters around you.
Relevant Posts