Duco paint is a premium quality air drying paint, which is ideal for all types of metal and wood surfaces. It dries off faster and has excellent colour retention, therefore, preferred by house painters. Its high solid content, excellent water resistance, self-leveling properties, and durability sets the house looking fresh and artistic. Duco paint is popular for its high gloss and matte finish in India. This is one of the premium finishes for any wooden and metal surface for a painting services project. Duco is being marketed by Imperial Chemical Industries (ICI) and AkzoNobel (In 2008, AkzoNobel acquired the ICI). Earlier, Duco paint was popular for the automobile finish but after the discovery of PU paint in the market, Duco falls in the demand in interior and architectural project for its superfine quality finish.
Those who prefer painting services projects to contain wooden furniture will surely love its topcoat finish. Same as other paints you can pick any colour for the topcoat and get it tinted from any hardware store. Generally, Duco paint for painting service in the house comes in the packing container of 1L, 4L, and 20L. Its application process needs a skilled, trained worker with all the safety equipment and its material.

Material Require before starting the process
| | | | |
| --- | --- | --- | --- |
| Spirit | NC Putty | Duco Primer Surfacer | Safety kit – Mask, Glasses, Gloves |
| Lakh Dana | Dhoti (White cotton cloth) | NC Duco Paint | Emery paper – Grit: 180, 220, 320, 600, 800/1000 |
| Wood Filler | Duco Thinner | Disc Sander Machine | Air Compressor Machine |
| HVLP Spray Gun (1 or 1.3 Pint) | Grit Paper – 220, 320 | | |
Points to keep in mind before initiating the painting service application process
The room or area you are going to paint should have proper ventilation. An exhaust system must definitely be there during the painting period.
Being a thinner based paint, the artist must have to take precautions against any health hazard. Make sure there must be only a few people and all should be wearing a mask, glasses and gloves for safety purposes.
For pre-polished furniture, remove all existing coating by sanding or scraping.
Most of its application products in the type of paints are highly flammable and hence extra attention should be given in detail.
The applicator should be skilled. Coating with a spray gun requires a lot of experience.
The gallons of paint ordered material are in sufficient quantity.
Cover the surrounding areas with plastic and masking tape.
Clean your spray gun after every use.
Do not use general purpose thinner but use only genuine products. Also, stick to what painting professionals suggest according to weather and gallon paint coverage.
Application Process of Duco Paint on new MDF (for professional application only)
Shellac Polish / Epoxy (optional): It is important to prepare the surface for paint by the help of an experienced painter. Firstly, the key factors to remember are wiping off the surface with a waste cotton cloth and then applying 3-4 coats of shellac polish (a mixture of spirit and lakh dana) of low density with hand. You can apply shellac with a spray machine for a fantastic job. This ensures identification for necessary repairs.
Necessary Repairs: After applying the shellac the cracks by the professional paniters all the uneven surfaces can be noticed easily. Fill these dents, scratches, uneven surfaces with wood filler with a putty knife during the painting service. This is the primary repairing or rectification you do on the surface. Let the filled area get dry. Once it dries, use sanding paper of grit 180 and level the surface to perfections. Wipe off all the dust from the surface with a cotton cloth.
1st Coat of Primer: Mix the Thinner and Primer Surface in the ratio of 1:1.5. Apply 1st coat of primer with the spray gun machine. Then, let the 1st coat of primer dry. It takes 30 minutes after the painting service to dry. Duco primer surfacer comes in two colours – White and Grey. If you have chosen the darker colour for the paint job for the topcoat, we suggest you use a grey primer for the surface. If you have chosen a light colour for the topcoat then use white primer surface.
Minor repair and dents: Most people during the paint job skip this repairing process, which is not considered to be a good image. This is because after the primary repair it is seen that primary repair gets shrunk and after the application of primer, it is important to check the image once again. It also ensures that the best base for final Duco paints without any dent, scratches and uneven surface.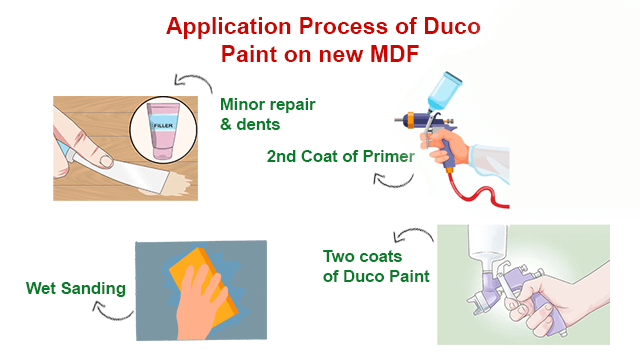 This time for the perfect style, fill the dents, cracks or any other necessary repair with Duco soft cut putty. Duco putty dries faster because of solvent-based. Once it gets dry, start wet sanding with water emery paper (waterproof abrasive paper) of grit 220. First sand the newly filled area and then complete the surface with coats of paint. Wipe off all dust and clean the surface with a cotton cloth (dhoti) or tack cloth as per the level of complexity.
2nd Coat of Primer: Apply the Duco primer on the repaired area. And then apply the 2nd coat of Duco primer surfacer in the same previous ratio.
Wet Sanding: Wet sand the whole primer applied area with the waterproof abrasive paper of grit 220 and followed by grit 320. After doing this you would have a very smooth base ready to colour with Duco paint. Wipe off all dust and clean the surface with a cotton cloth (dhoti) or tack cloth.
Two coats of Duco Paint: Mix the selected colour of Duco NC Lacquer with Duco thinner in the ratio of 1:2. Ensure the surface is perfectly clean and there is no dust over it before you apply the coat. Apply 1st coat of Duco paint with a spray gun machine and wait for 30 minutes for drying. As fast drying is one of the key benefits of Duco paint, it will dry in 30 minutes. Apply the 2nd coat of Duco paint with the same care and techniques.
Remove Gloss: Most of the contractors skip this process due to lots of considerations but re-painting before handing over the project to the owner after two coats of Duco Paint. For a better and quality finish, you should wet sand the surface with a waterproof abrasive paper of grit 600 and followed by 800 or 1000 to remove the gloss. This sanding should be done with extra care in corners and edges.
Final Coat: Now it's time to apply the final coat with the mixture of Duco NC Lacquer and Duco thinner in the ratio of 1:2. This coating should be done with extra care and precaution as this is the final coat of painting job. This final surface is long-lasting and durable for house painting services.
Buffing (Optional): If you are looking for a higher gloss, then polish the surface with a rubbing compound. If you chose the matte finish for your surface, you don't need to polish the surface with wax. Your Duco Paint coating process is complete. The obtained surface is long-lasting and beautiful.
Limitation of Duco Paint
It can be performed by professional painters only. Not everyone can do it as minor imperfections can kill the look. Level of difficulty to apply the paint is higher.
Not recommended for surfaces exposed to direct rain or sunlight.
Being solvent based, Duco is highly flammable and hence the house painting should be done via painting contractor.
Harmful for the applicator, as it contains volatile organic solvents. Painter professionals should be assigned for the job.
Duco paint's colour stability on exposure to sunlight is average, over the period it can fade and even become yellowish.
Require many tools and costly equipment and hence request coats of paint by professionals.
Being solvent-based, Duco is not an eco-friendly type of paint.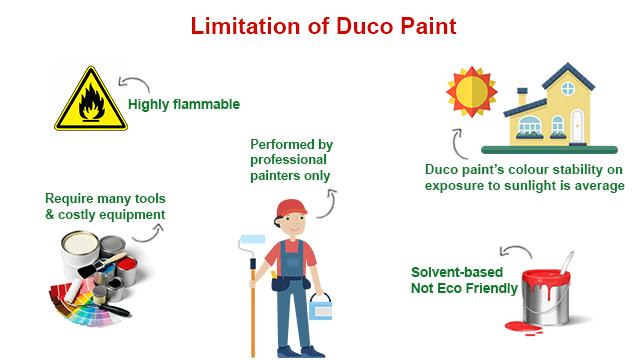 Conclusion
Duco paint is one of the premium finishes for furniture in India and it gives you unlimited colour choice. To obtain the quality and satisfactory result it should be executed by the professionals' painters. There are so many processes to follow by the painting contractors, thus it will take time to get the best result. It provides resistance from heat, water, scratches, and stain. Duco paint furniture looks good with the interior.
For an excellent job, Home Glazer assures you that your home will look modern and luxurious if you have Duco painted furniture in your home. If you are looking for someone who can get you the quality finish for your Duco painting project, Contact us today

Relevant Posts