The living room is the heart of a home where you spend most of your time with family and friends. You gather with them for dining, talking, watching TV and entertainment. You laugh together to create beautiful memories for a lifetime. When the living room has this much importance, it should be decorated with the best theme and colour. In that case, the living room walls play a crucial role. The placement of the sofa, television, dining table, lamp table, and bookshelf seems more structured when placed and matched with the colour of the room. Home Glazer is contributing with a few suggestions of colour that go perfect for your living room.
In the living room, you take your first sip of tea in the morning as well as binge your dinner and spend the last moment of the day. So, the colour of the living room should be selected such that it can reflect your real essence of mood. From the coolest colour trends to classical colours,
Some Important points to keep in mind before selecting the paint colour for living room
If you're looking for a new paint colour for your living room, there are a few things you'll want to keep in mind. First, consider the overall tone you want to create in the space. Do you want it to be light and airy? Or warm and inviting? Once you've decided on the feeling you want to create, take a look at some of the best paint colours for living rooms below.
If you're working with a small living room, light colours will help make the space feel larger and more open. Try a pale blue or green – these colours will also help create a calming atmosphere. If you have a large living room, dark colours can help define the space and make it feel cosier. A rich navy or chocolate brown would be perfect for this.
Another thing to keep in mind is the amount of natural light your living room gets. If it's a sunny room, go for brighter colours that will reflect the light and make the space feel even more open and airy. If your living room is on the darker side, opt for richer, warmer tones to make it feel cozy and inviting.
Whatever colour you choose, make sure it's one that.
Home Glazer has sorted out the best colours to beautify your living room.
1. Peach:
You want cool compliments for your taste of selecting a colour for the living room then peach is a perfect choice. Inspired by the colour of the fruit, peach can be layered from bright colours to soft or vibrant. It signifies most of the human skin tones and goes well with all furniture of the living room.
2. Emerald Green:
Green represents the sense of renewal for every aspect. The emerald green echoes freshness and splashes it in your life. For a living room, this colour is a perfect alternative for those who are playful and focus on illuminating positivity to their loved ones. It goes pretty well with vintage-designed furniture as well as modern ones.
3. Matte White:
The velvety matte white colour looks so classy and always makes your living room brighter. Generally, this tone gets a very smooth finishing on the walls and beholds the best washable property. Though white is a common colour, the matte finish looks elegant making a big impact.
4. Soft Clay:
Soft clay is the conventional colour for the interior walls of your living room. Because of its earthly spirit, it is in trend. The clay colour simulates warmth and courtesy and exhibits a magnetic gesture. It works finely in dim lights as well as bright sunny days while elevating your mood with ease.
5. Sky Blue:
Here comes the most significant colour which represents the vast atmosphere, the sky blue colour. Being the colour of nature, sky blue works equally well with other colours like grey, ocean green, and pale orange. Neutral colour furniture and accessories evoke out a sophisticated feel in your living room.
6. Light Olive:
Olive is the close relative of colour green and it's timeless. In the last few years, people are embracing it with peaceful richness. It is one of the best colours for the living room and it is perfect for those who love to live in the traditional style.
7. Grey:
Introspective is a term for those who are self-intuitive and so is the grey colour for a living room. It adds an inviting touch to the interiors of your home and living room.
8. Ocean Blue:
The ocean blue colour gives a shiny tone to the walls of the living room bringing calmness and stabilizing effect to your living room and adding beauty to your home. The woody and golden photo frame blossoms supremely over the blue colours.
9. Pale Yellow:
To bring a cheery ambience to your home, go for the pale yellow colour for the living room. It is exciting, expansive and a versatile colour that adds sunny colour to the walls. It brings abundant natural light to your home.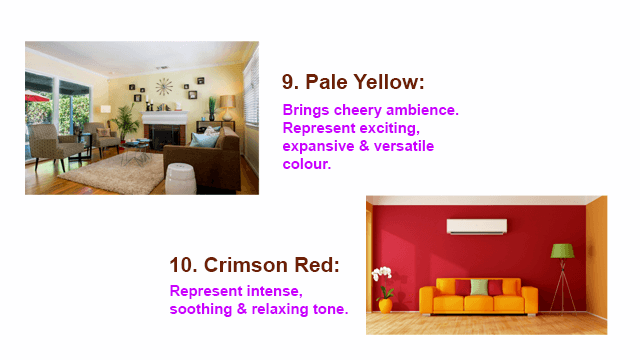 10. Crimson Red:
Avoid super red for walls but you can go for a crimson red colour for your living room. It is an intense, soothing, and relaxing tone. The colours over the walls can be styled with an essence mixture of all possible layouts.
Final Words
Looking for the best paint colour for your living room? Look no further than Home Glazer! Our experienced painters will help you choose the perfect colour scheme for your space and provide expert guidance on the best way to achieve your desired look. We only use high-quality paints and materials, so you can be confident that your finished product will be beautiful and long-lasting. At the end of the project, Home Glazer ensures your complete satisfaction and worth for every penny.
With our help, your living room will be looking its best in no time! Get in touch today to know more about our interior painting services and receive a free quote.
Relevant Posts