The advantage of graffiti painting is much more like the freedom to express thoughts with graffiti on walls. All you need is spray paints and good knowledge. And then it is possible to create every art which we can imagine. The use of graffiti painting in cafes, bars and restaurants can be a great way to add some personality to your space. Not only does it give your customers something to look at while they're enjoying their meal or drink, but it can also help you stand out from the competition.
Graffiti painting can help to create a more positive and fun working environment for employees. Of course, it is important to make sure that the graffiti is appropriate and inoffensive so that it does not turn people away. With careful planning and consideration, however, incorporating graffiti into your business could be a great move. If you're thinking about adding some graffiti to your business, be sure to check these important points to know the best type of graffiti for your business.
Let's discover the possible advantages of graffiti painting at your place.
Attracts Art Lovers
If you are an oppidan art admirer, and you find yourself in a restaurant full of artworks, you will certainly get mesmerized. With some awesome graffiti pieces and amazing meals on the menu, that would be a place that suits you. And how does it usually happen? Some street artists open bars, cafes, or restaurants, and they utilize their art to decorate the walls of those in their style. Another possibility is some graffiti painting admirers who own restaurants hire artists to create some awesome art for their places. We have very skilled artists who can make your place very magnetic in no time. Many restaurants, bars, and cafe owners try to attract customers by allowing graffiti artists to paint their walls.
Decorates the Place in A Unique Way
Although graffiti is not a style of formal art it's in trend right now. Walls with artistic paintings look brighter and stylish. Suppose you are sitting in a cafe sipping your cup of coffee. Suddenly your eyes got stuck on a graffiti character on the wall and you started imagining a new story. Graffiti painting decorates your place with a recharging ambiance. Our artists have experimented for a long time to develop their way of decorating interiors.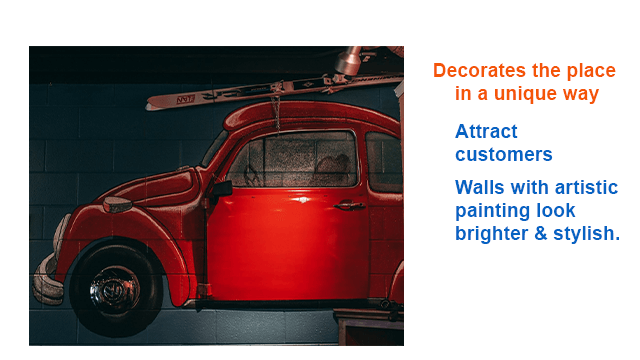 Brings Art Awareness
A place like a restaurant, bar, or cafe is a place where lots of crowd gets collected. There may be people who love art but due to their busy lifestyles, they are not able to visit some art galleries. They would love to visit your place for their food more often. Because they are getting their hobby to enjoy for free in addition to food. On the other hand, art in big papers and framed in some art galleries is getting out of trend.

Most of us have a busy lifestyle. Youngsters who do not know much about art or styles of art Graffiti painting is a boon for them. It spreads awareness about art and painting creatively. At Home Glazer, we provide a creative graffiti painting service that catches the interest of youth and those who are interested in knowing graffiti.
This May Fascinate Specific Group
Graffiti painting is all about the art on walls in a modern way, basically done in streets and public places. There may be Marvel fans visiting your restaurant, bar, or cafe, similarly, there are many cartoon characters who have large fan bases, few of them may be your customers visiting your place may get surprised with this new trial of creativity. Watching their favourite art drawn on the wall may make them addicted to visiting your place again and again.
Theme-based Painting
If your restaurant or place is having graffiti paintings related to a specific theme, it may be based on motivation, learnings, or a place where thoughts related to relationships are painted in the form of attractive graffiti. Doing this may create bonding between your place and your customers for a long time. It is also possible to create graffiti pieces related to art so everybody can find their message or meaning in it. It can be relatable. The restaurant, bar, or cafe will look a lot prettier.
Graffiti Relates to Issues and Thoughts of Many Peoples
Graffiti painting is an art to express inner feelings. Those feelings get attached to the emotions of many people very commonly. Sometimes done using creative scribbles, sometimes drawings, and sometimes writings. Graffiti paintings are considered to be common but still, it is very powerful to reveal to you about people, places, society, culture, art, and politics globally.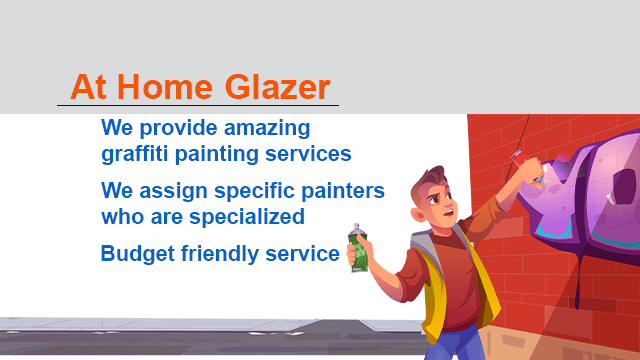 Final Words
If you're looking for a way to add some personality to your space, hire Home Glazer for graffiti painting. Home Glazer's graffiti painting services are the perfect way to add some personality to your cafes, restaurants, bars, and other commercial space. We provide high-quality, professional services that will transform any boring wall into a work of art. We offer a wide range of colors and designs to choose from that will make your space look its best. Our experienced graffiti artist will work with you to create a custom design that fits your taste and budget. Our team of experienced artists will create a one-of-a-kind design that will brighten up your space and make it truly unique. Contact us today to get started on your next project!
Relevant Posts