We all love the blossom of freshly painted walls, especially on a special occasions. The most enjoyable part of getting a wall painting is the choice of the perfect colour for each wall. We all have the excitement of picking up colours that are special to our hearts and that will stay with us in and out almost every day. To have a deeper meaning in a painting, a job does not end at just choosing the right colours. The tough job is to select a type of paint that will be suitable for the wall.
To understand the concept, it will always be advisable to call for professional help such as Home Glazer who are working in the field for more than 35 years. Choosing the best painters to have a better understanding of the walls at our place will help to decide which paint will be best for a particular wall. Though painters do their job efficiently due to their experience and understanding of the concept of paints but for our understanding of water-based enamel paint and oil-based enamel paint, let us study in deep. This will help our decision to be stronger when painters suggest paints for our wall.
Oil-based Enamel Paint vs Water-based Enamel Paint, What is the Difference?
The solvent in the paint is the key factor that makes the difference between oil-based enamel paint and water-based enamel paint. There are many types of solvents available that when used bring out desired results. These solvents are in liquid form and it vaporises as soon as the paint dries.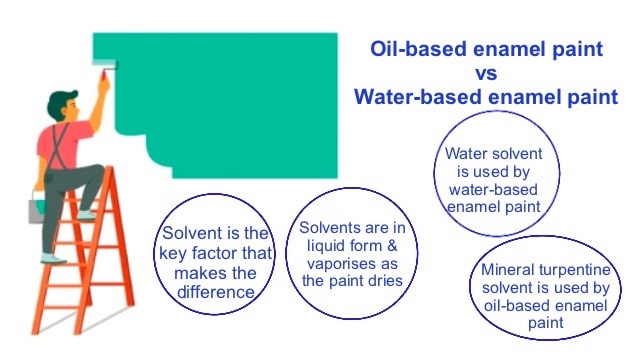 Solvent for Oil-based Enamel Paint
Solvent for Water-based Enamel
Oil-based enamel can be easily known for its peculiar smell and it is flammable and can also create adverse effects on human health if exposed for a longer duration. Regular exposure usually brings in strong headaches, skin irritation and even nausea. This is the main reason why painters keep the doors and windows open for ventilation which has the power to cut down the strong smell of the paint.
Whereas, water-based enamel paint contains more water quantity making them safe while applied. As the paint has an extra quantity of water, it gives out fewer odours when compared with oil-based enamel.
Variation in Sheen Effects
Oil-based paints show a better sheen effect and the after-effects are eye-catching. Although, it is seen that after a certain point of time, the effects of sheen are reduced and the paint looks dull.
On the other hand, water-based paints have a low sheen effect but maintain the sheen level for a longer duration. Hence if you have planned to repaint in a few years then you can opt for oil-based paint but if your budget is economical then water-based enamel is the best option.
Durability
Oil-based paints dry harder in comparison to water-based paints but at the same time give amazing resistance to wear and tear. The flip side of it drying sooner is that it does not have greater elasticity as it becomes chalky and brittle. The result proves the paint to crack.
Water-based paint will dry hard but will have the capacity to resist any damage and even take care of yearly wear and tear. This makes water-based paint more bending towards change and hence flexible. They can easily tolerate moisture.
Surface Conditions
Oil-based enamel paints find it difficult to create a solid bond with the surface as they deter water. Therefore, it is vital to completely dry out a surface before applying them.
Water-based enamel paints absorb humidity and moisture and therefore a complete drying out of the wall before the application is not needed.
Application Process
Oil-based enamel paints are thick and give a sticky feeling. Professional painters take time to apply due to their peculiar nature. It tends to give a foul smell and can cause headaches and irritations to sensitive people. The cleaning up process after application requires thinners for the mess. The brushes need hard thinners to be cleaned for the next painting process.
Water-based paint can be applied easily and the process is much faster. As it contains less VOC, hence its smell is not at all harsh. The cleaning process is much easier as water can be used for strains.
Where to Use Oil-based Enamel?
Oil-based enamel paints contain flammable solvents and can be used for interior walls as they can break on exposure to UV light. Though oil-based enamel can yellow down in a few years.
Where to Use Water-based Enamel?
Water-based enamel paints are non-flammable and can be good amazingly for external and internal walls as it absorbs humidity and moisture in the air and is resistant to UV light. Water-based enamel paint does not yellow down in a few years.
A General Distinguish Between Oil-based Enamel Paints And Water-based Enamel Paints
| | |
| --- | --- |
| Oil-based enamel paint | Water-based enamel paint |
| Available in fewer colours | Available in a full range of colour options |
| Comes in gloss and semi-gloss finishes | Comes in gloss and semi-gloss finishes |
| Gives a brilliant gloss finish | Does not give a brilliant gloss finish |
| Suitable for all window types | Not suitable for all window types |
| Touch dries in about 8 hours | Touch dries in about 30 minutes |
| Can be re-coatable in 16 hours | Can be re-coatable in 2 hours |
| Less flexible as it becomes harder with time | Flexible as it does not tend to become harder with time |
| Not resistant to alkalis in masonry and zinc rich metals | Resistant to alkalis in masonry and zinc rich metals |
| For interior walls | For both interior and exterior walls |
| Low level of UV resistance and can become chalky and fade over time | High level of UV resistance with greater resistance to chalking and fading |
Conclusion
A perfect job of the application of the paint is easy by the hands of professional painters. Moreover, an expert in painting services will be able to understand which wall needs which paint. Many times owner takes a decision to apply the paint calling application workers to paint his walls. Often it is seen that the walls are not thoroughly understood and the decision is gone wrong. This proves that the entire money put in is gone waste and time is also lost. The owners will then have to re-apply in a short duration and many times do not understand what went wrong. If there are cracks in the wall due to the wrong paint, the cost next time would increase significantly.
Therefore, call Home Glazer we have 35+ years of experience in painting services for commercial, residential, industrial, and roofing work. Home Glazer assure to give out a detailed plan before choosing the right paint for your wall. We have a team of high-quality painters who guarantee ultimate customer satisfaction. The dedicated team brings out the best painting services and has packages that tend to suit every budget. Call us today!
Relevant Blogs