We are living in a society where new trends get outdated as soon as they arrive. Sometimes trends change so quickly that it becomes really hard to keep up with the ongoing trend. This causes a major problem in painting your home or particularly your kitchen. What if you painted your kitchen and only in a few days the colour scheme you used in painting your kitchen becomes outdated? You don't want your newly modified kitchen to turn into an outdated kitchen overnight, right? That's why you should opt for such a kitchen style or colour scheme which will survive the constantly changing trends. So be wary while choosing a colour scheme for the kitchen which will reflect your personality as well as survive the changing trends, when you decide to renovate your kitchen. This blog presents you with various beautiful kitchen colour schemes which stood with time.
✓Importance of Colour schemes
Colour carries a variety of emotions with them. With the right colour scheme, you can set the right mood. Colours can energize you or cool you down. That's what it is of the utmost importance to choose the right colours when you are designing your kitchen. The Colour scheme provides a better understanding of which colour to use. Colour schemes are the logical combination of different colours on the colour wheel to get the best possible colour scheme. The main purpose of the colour scheme is to provide a colour scheme that will give your interior and home an aesthetic feeling of style and appeal.

Let's see what are the best colour scheme for your kitchen.
Classic Blues and Greys
This beautiful colour combination has been around for generations. This colour scheme has a very cool vibe and looks gorgeous. If you want consistency for the colours on your wall then you should try this colour scheme for your kitchen.
Tans and Brown
If you want to give a warm and metallic tone to your kitchen, there is no better option than this colour scheme. It gives a magnificent look to your kitchen.
Sunshiny Yellow Colour
If you are looking for a cheerful look for your kitchen then this is the best choice. You can also give touches of blue, green, or white to avoid over bright look
Warm Orange on Brown
If you want to try something daring and bold then you can apply a warm orange colour over the brown colour. It will give a bold look to your kitchen.
Signature Red and White Colour Scheme
This is a traditional colour scheme for a kitchen but it never gets out of fashion. It gives a classy look to your kitchen and is refreshing.
Natural Earth Colour Scheme
If you want to stick with basics then you can try natural earth tones. They provide a classy look to your kitchen yet it looks very simple. It is the best colour scheme for a minimalist.
Clean White Colour
If you are looking for a clean yet sensible colour scheme then this should be the colour scheme you are looking for. This colour scheme was really popular even in the old times.
Black and Brass
If you are a lover of dark themes then you should try this colour scheme for your kitchen. It provides a dark theme to your kitchen and provides a warm and metallic touch to your kitchen.
Whites on Wood
The warm shades of wood complement the cool shade of white pretty well and give a great look to your kitchen.
Blue, White and Gold
This is the most classy colour scheme for your kitchen that you can ever imagine. If you are looking for a cool colour combination then choose this.
Modern Rustic
If you don't want to bother yourself with paint you can give a try to the natural and beautiful wood grains to give your kitchen a surprisingly beautiful style. Natural stone and steel implements complement each other well and deliver what you want from them.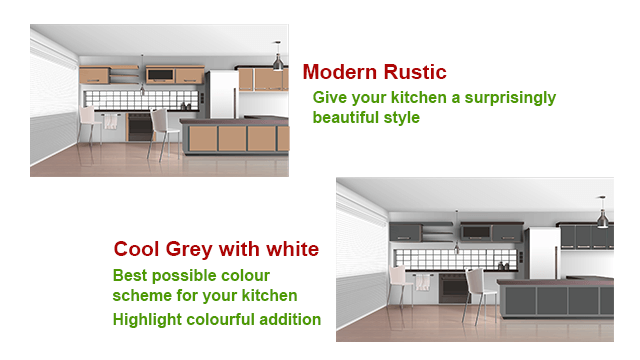 Cool Grey with White
It is the best possible colour scheme for your kitchen if you want to highlight a colourful addition.
Final Words
These are the best 12 colour schemes for your kitchen you can try while renovating or constructing your home. The choice of the colour scheme depends on your liking and what you want your kitchen to look like.
At Home Glazer, we provide high-quality kitchen painting services, colour consultation, cabinet painting, and polishing services that can transform the look of your kitchen. With colour consultation, you can choose the perfect colours for your cabinets and have them professionally painted. Kitchen cabinet painting and polishing services can give your kitchen a whole new look, and PU Paint for kitchen cabinets is a great way to protect your investment. We use the highest quality PU paint for kitchen cabinets to ensure a beautiful, long-lasting finish. Our team of experienced professionals will work with you to create the perfect look for your home. Our PU paint for kitchen cabinets is of the highest quality and will give your cabinets a beautiful, glossy finish.  If you're in need of kitchen painting or polishing services, we highly recommend reaching out to Home Glazer. Contact us today to schedule a consultation.
Relevant Posts