Bare walls lack beauty. Not every wall in our house needs to be plain and simple. To showcase an essence of art and a style of personal touch and to make a home look rich. Along with a dash of sophistication, you will need professional painters to bring out the best style one has ever witnessed. Over the years, Home Glazer's painters have played well with texture painting and stencil painting which bring in a radiance of sumptuous beauty to one's home. Both the techniques are entirely different and need a professional painter like Home Glazer to bring out decorous and ravishing looks to walls.
Often people get confused by thinking both these styles of painting the wall are the same but technically both are way different. Both have their perticular style of getting out the art from the artist. Both bring a completely different look to walls. These styles need practice and the use of the right material to bring out error-free work. To understand both deeply and bring out the basic difference, let us study them in detail.
Definitions
Texture Painting is a typical rough painting that adds characters to walls. It also is famous to give a kind of rustic appeal that looks like wallpapers but are done from scratch. Thus, adding value when compared to wallpaper. Drywall can easily be given consistency by picturing rough patterns onto the wall. By using different colours one can make it look more alluring. Textured walls usually show depth, shadow and structure in a unique manner.
Stencil Painting is the composure of art using various designs on pre-cut paper and then using it to bring out designs on the wall. Stencil paintings can have customised designs as per the customer's ideology. A single or multiple unique patterns can be clubbed in a stencil and then the dynamics can be used to flawlessly bring out the desired results on the wall. It involves a perfect measurement of the original outlook design while making the stencil. As the stencil is the base, it has to come out technically right so that it gives the most solid results.
Method
Texture Painting required rough patches which can be randomly thrown onto the wall bringing in a modern art lookout. Texture painting has two techniques namely Glazing and Plastering. During Glazing, transparent paint has coated a base and over the same, a roller and a brush is used to bring out various textures. Whereas, Plastering involves applying the plaster first using tools like a knife. Then the wall is given various colours onto the plasters furnishing a mini 3D look. Initially, the rollers are used on a smaller patch to bring out the specifications.
Stencil Painting has to be perfectly created first on a raw sheet or designated material. The stencil after it is made is then stuck to the wall on every patch to bring out the scrupulousness of the designs. The designs when once drawn on a wall can be coloured using a diverse range. Stencil Painting brings in the exactness into the wall paint leaving behind no issues of dissimilarity.
Which technique to Choose For Homes?
Texture paintings are majorly popular among people who are huge fans of modern art and paintings. So, this group of people should prefer texture painting in their houses.
Stencil paintings should be chosen by people who are particular about the exact figure they require on the wall or need specific designs.
When to Select a Texture or Stencil Painting for Wall
Texture painting is usually carried onto the entire wall. Hence if you are planning for a complete wall painting making it look different from the rest of your walls then texture painting can be chosen.
If you require a small patch of a particular design, then you can pick stencil painting. Though, many people repeat the entire wall on a block design using stencils which also looks equally gorgeous.
Cost-Effective
Stencil painting is more economical when not many specifications are required when compared to texture painting. As stencil painting is easy and swift, it in all ways is chosen more by people who are willing to do different wall designs and at the same time looking for a cheaper option. Texture painting requires more effort and man-hours and therefore it costs more.
Beneficially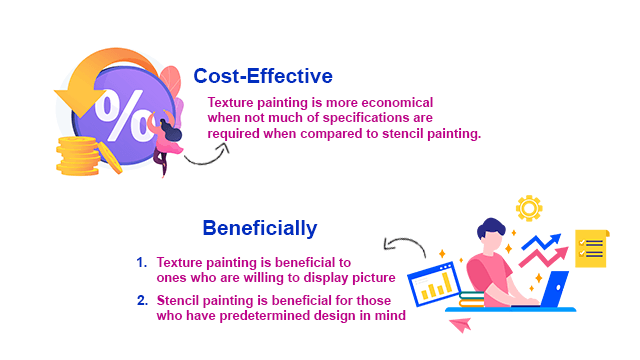 Texture painting is beneficial to ones who are willing to have a wall displaying a picture as a whole. On other hand, stencil painting is beneficial for those who have a predetermined design in their mind and want to bring out the exactness of the same in the wall.
Conclusion
Interior wall painting can be carried on in a huge assortment of shades of colours and sheens. but to bring out a modish look to one's home, getting professional painters help for texture painting or stencil painting is must. This eye-catching gorgeous beauty of painting techniques makes a particular mark of artistic touch to your homes. An alluring home only brings in more positivity and magnificence. Hence, it becomes at the top important to get at least one wall painted by the best painters in Delhi.
Home Glazer who has been in the industry for 35 long years has a team of skilled painters. We do texture wall painting and stencil wall paintings both. Our one touch can make your home wall bring in the shine you have always wished for.
At Home Glazer, we are focusing on utmost customer satisfaction and hence believe in crystal clear transparency for our clients. We take its customised suggestions and blend them with our artistic knowledge. And our team try bring out the most heavenly wall of texture or stencil painting that you are looking for. We serve in every budget and have plans to bring out delightful offers for our clients. Therefore, contact us for the most suited price along with free consultation. We are sure you will find irresistible art at competitive prices.
Relevant Posts