Do your work offices need to be revamped, but you hesitate to spend money on your company's building? That's quite alright, however, you may need to ask yourself when the last time you paint your business office or building was? If the answer is many years ago, or you do not even remember. Then there is a great need to hire Home Glazer's painting contractor for regular office maintenance. This is because the workplace needs to be kept looking its best regularly.
Your office is a huge part of your brand. According to the experts, you need to ensure the walls are regularly being painted to have a clean, fresh, and beautiful office. Not just for the staff who works there, but for any visitors or guests you may have during working hours. In this write-up, we will be sharing some benefits of why you should paint your office regularly.
Benefits of painting your office regularly
Keeping up Appearance: If you regularly conduct meetings at your workplace, then you will know how important it is to keep a good office appearance. What makes the first impression on your visitors/clients/customers/investors is your office appearance. It speaks when you are not speaking and it shows a picture of the quality of paint work done in the office.
Just imagine that your visitors and potential clients walk into your office and see peeling paint or uneven patches on the walls. It's not going to generate a positive and professional first impression on them. And that's why it becomes more important to paint your office regularly. Repainting your walls by professional painters at least once per year can help to keep up appearances and make sure that your guests aren't put off when they arrive at your work space.
Your office is a big part of your brand: Branding and marketing are very crucial and important to any business nowadays. Your business space is an essential part of your brand and you should not ignore this in any way. As we all work very hard to protect our brand, you need to ensure that the colours in your workspace are consistent with the brand you're trying to build, and this is also why you should consider painting your workspace regularly with the best painters.
Increase in Productivity: The impact of paint colour on the productivity of employees in the office is absolutely true. The ambiance in an office is by far one of the most influential factors in employee's productivity. A clean, fresh and well-organized office can reduce stress and boost the motivation of the workers thereby improving productivity.
A study carried out that about 95% of employees said they feel motivated when they are in clean office space, and most of them admit that they produce work of higher quality when the workspace is clean and fresh. This also makes them motivated enough to be innovative and build trust with each other.
Reflecting Colour Combination: Office's colours have been known to influence behaviours in many ways. You need to ensure that your office and its paint colour scheme and furnishings represent the identity of your business. We have earlier discussed that your office is an important part of your brand and you should use the paint colour of your brand on your office walls.
This is why you should paint your office in reflecting colours regularly, and here at Home Glazer, we will help you in choosing the best colour that fits your style and business. To know the best colour combination to paint your office, click here.
Necessary Repairs: No one will ever believe that you are running a professional operation seeing that your walls are dirty, with paints peeling off and having cracks and holes. These snippets you might not see as important screams unprofessional. Professional painters will always make you aware of these trouble areas and the repairs needed in your building. They will also always make sure those repairs or trouble areas are attended to before they paint.
Painting is cost-effective: One of the biggest benefits of giving your office a new coat of paint from skilled painters is that it's one of the most cost-effective ways to make a change to your office. A fresh coat of paint could literally lead to more potential employees and clients who would want to work with or for you. Many people who are running businesses simply don't have time to think through every detail of what their business looks like.
In fact, they might have enjoyed a steady stream of business for many years without considering how the paint is faring on the side of their office. Paint not only looks great when it's been freshened up, but It can also quite literally express something new and exciting about your business.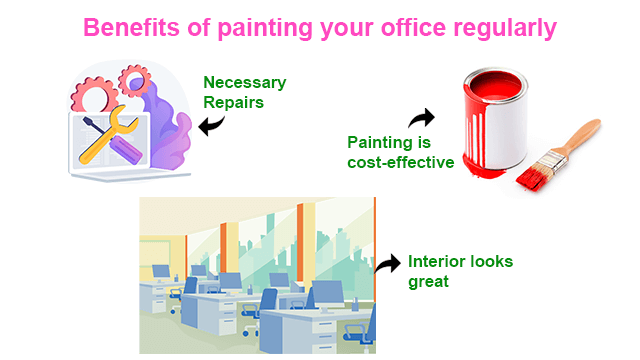 Interior looks great: Visitors in your office always pay attention to the interiors and interior walls. As a business owner, you already know the importance of maintaining an attractive office or shop. This might seem like an obvious reason to paint or repaint your office space, but for some business owners, it's not. In our 35 years of workmanship, we have seen the transformative and refreshing power of paint on office interiors. It can make your business look absolutely new, fresh, and updated. Hence, this is also one of the reasons that you should consider painting your it regularly.
Conclusion
There are many other reasons why offices should get paint regularly, at least every 1-2 years. The Paint on your office walls will be very crucial in setting the right atmosphere for workers and visitors to feel comfortable. Our professional paint experts are always ready to help you paint your space. At Home Glazer, we offer free consultations and will also help you pick the right colour to make your office look as great as your imagination for your brand.
When it comes time to repaint the office interior, the project can easily become a logistical nightmare and for most businesses, closing during the week is impractical. Now comes the big question, should you keep your office or business open while the paintwork is underway, or close during the project? Of course, you'd prefer not to lose money – especially when you're making an investment in this improvement.

For this, be sure to check our "WOW One Day Painting Service". Wherein we promise to paint your entire interior in just one day. This way, you won't need to close your business for weeks. You can simply schedule the paint job with us on any weekend or on any Non-National holiday. And the very next morning your workers and visitors will also say "WOW Painting Done in Just One Day".
Latest Blogs