The paint of your office can be a very vital aspect that you may look over. As much as the paint of your office is important to keep up the aesthetics, it is important to keep up the essence of your office. Paint your office not only gives a professional appeal to your office but also decides on the performance of your employees.
But people often keep the paint job on the office much lower in the priority list. True, that you need to take care of many things like your services, machinery, your employees, etc. But this should not let you undermine the impression that the interior paint of your office can have on your clients.
What is the perfect time to paint your office?
Routine Paint Job of Your Office
The perfect time for painting your office can vary with a lot of factors. Generally, you should paint your office every 2-3 years so that it remains good looking and relevant.
Big Changes
You should also paint your office every time you make some big changes, to keep your office up to date with the change.
Off-season
Time is also a serious factor when you want to paint your office. Where would you work from when your office is getting a makeover? Painting can be a serious problem in the busy season. So, it is best to opt for fresh painting when the business season is still some time away. This way when the new business season comes you will be ready for it with a new avatar.
Office Schedule
The normal working hours of your office also influence the time suitable to paint your office.
If you work in defined day shifts or shifts, it is simply best to paint when the office has closed. It may take 2-3 nights to paint a normal-sized office, while you can perfectly work in the day.
If your office is open for long hours and extended duration during weekdays and is fully or partially closed during the weekends, you should think of getting it painted at weekends.
In case your office runs 24×7, you may not have a fixed free time to paint it. In such cases, you can opt to paint your office in small shifts. During a particular time of the day when there is the least rush, you can get your office painted over a week. Or you can get the painting done in small continuous patches, one wall at a time or one corner at a time.
Weather
Generally, early summer is the best season for getting painting work for your home and office. It is especially more favourable for external paints. For painting the interior walls of your office, warm and dry weather would be good. Warm and dry weather helps in the fast-drying and proper setting of painting.
Availability of Good Painters
You should always hire trusted contractors to paint your office. The time when all their best painting workers are available is also the correct time for painting your office.
What should you keep in my mind before your start to paint your office?
Painting your office is a big and tricky task. You need to decide the colour scheme and the type of paint to use, pretty well in advance, depending on your needs and budget. The paint job should not be done by painters without proper knowledge, skill, and experience. Any mistakes can cost you a lot. Thus, you should take care that the painters do the scrubbing, sanding, and priming of the walls before applying coats of paint. Good work done by skilled paint workers can make your office stand out from the rest.
The colour scheme of your office reflects not only your personality but the personality or essence of your business.
And naturally, the painting in your office will get old over time. Who would like to hire your company if your office looks shabby? It is important to repaint your office before the paint gets old.
A properly painted office is helpful to maintain the image of your business. You can choose the colours according to the services you offer. For services that deal with art and design like fashion, software development, or home decor, you have more freedom to show your creativity.
The paint of your office may also have a direct influence on the mood of your employees. It should not bore them or distract them from the work at hand.
Also if you do some major changes to your firm, you should change your office to accommodate it.
Conclusion:
The condition of your office's wall is an important part of the person in your office. Taking time to pick a good combo is important and so is choosing the correct time to paint the office.
Painting your office will be very crucial in setting the right atmosphere for workers and visitors to feel comfortable. Our professional paint experts are always ready to help you paint your space. At Home Glazer, we offer free consultations and will also help you pick the right colour to make your office look as great as your imagination for your brand.
When it comes time to repaint the office interior, however, the project can easily become a logistical nightmare. For most businesses, closing during the week is impractical. Now for the big question. Should you keep your business open while painting is underway, or close during the project? Of course, you'd prefer not to lose money – especially when you're investing in this improvement.

For this, be sure to check our "WOW One Day" painting service. Wherein we promise to paint your entire interior in one day only. This way, you won't need to close your business for weeks. You can simply schedule the paint job with us on any weekend or any Non-National holiday. And the very next morning your workers and visitors will also say "WOW One Day".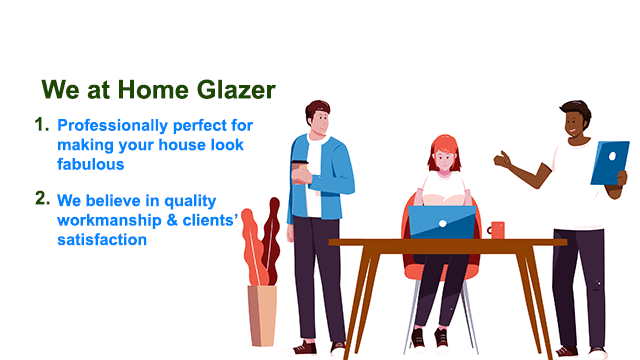 So, what you are waiting for? Book your "WOW ONE DAY PAINTING SERVICE" or "COMMERCIAL PAINTING SERVICE" today and relax.
Relevant Posts