Home Glazer is identified for its uniqueness where customer satisfaction is the most priority and we serve you services according to your expectations and performances in meeting those needs. As per the pandemic situation all across global countries, cleanliness, sanitization is our main concern. A commercial painting must step forward in awareness during this lockdown.
Our efficiency and track record show the trust of residents in our services. We are committed to pursuing the highest standards of superiority to make the customer fully satisfied. The major sources of our unity are organized crews, preparation, and hard work.
We provide painting and wood coating services undertaken by trained and certified professionals, who work efficiently for your offices & places. Painting your office will be very crucial in setting a good atmosphere for employees and visitors. It makes outsiders feel more comfortable and relaxed.
Although, a dull environment reflects not so good vibes at all and so you have to draw your attention to your walls. Office wall paint is one of the essential components that set positive vibes in one's working space. While many painter services facilitate their services but leave you with a hole in your pocket. So, to avoid such circumstances, shift yourself to Home Glazer painters to get the best out of commercial painting services which are both hassle-free and at a reasonable price.
Benefits of Painting Shops, Restraunts and Offices
Keeping the workplace clean and sanitized.
During Lockdown many shops are closed

for a while, therefore, it's a good time to

get a hassle-free painting job

.

Painting keeps good vibes in the office

and thus, makes the workers motivated to work.

Some good paint can bring back the work enthusiasm in the work.

Internal context and

vibrant colour make the workplace look great

.

Colour combinations

reflect a positive environment

.

Enhancing productivity & boosting motivation.

Working space plays a big part in the business.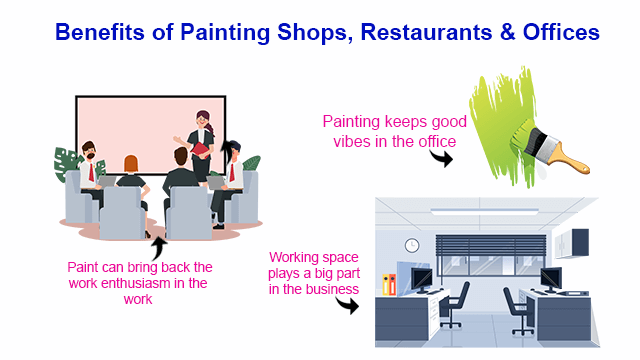 Get Your Commercial Space Ready Before Lockdown Ends
There are various hidden advantages of lockdown for business owners in this outbreak. The sudden pandemic situation has affected the whole economy worldwide. COVID-19 lockdown affected business performances such as retailers, contractors, and a lot of small and medium enterprises. Home Glazer, provides the services with extra care in the biggest challenge many business owners have ever had to face. Our team members have formed a new perspective on doing business. We can provide the vast majority of us working from home etc, by using this revamping time to maintain our workspaces.
This pandemic provides a good chance to re-evaluate the efficiencies and improve the areas that attract consumers. Its main fundamental is members' safety, people who are working over here. Way to achieve stability the company must process effectively and keep its surroundings clean and hygienic. Lockdown creates a chance for offices to revamp their interior workspaces.
So, once things are going back to normal after lockdown, the customers and employees must update themselves to business plans, directions, and other aspects. Home Glazer is beside everyone who needs to get professional paintwork done in this situation as well. Because of this pandemic situation, a lot of human interactions and connections have become limited, so booking is online. Nothing can change your reputation and your fame because of pandemics across the world. While maintaining businesses there are times when waiting to set or update repairs due to busy durations of offices, shops, and restaurants.
Home Glazer during Lockdown
But now, during the COVID-19 outbreak, businesses get time to work on their image and brand. These paintings' colour palettes, design layouts, all promotional and marketing tools may have been updated throughout this time. This will give a good appearance amongst other things in an attractive way. With great efforts, the company has enough feedback from customers and crew members. Lastly, it gives birth to new connections in the form of customers and keeps the target audience glued to the Home Glazer brand. We request you all to stay safe and hygienic and keep faith in our work. The workplace will not be boring when you go back after months of lockdown.
Relevant Posts