Wood furniture enhances the decor of a home and it can do so much to your home. Nowadays, many types of wood finish and polishes are available. It becomes quite important to choose the best wood polish and finish as per your taste. Home Glazer helps you in deciding which suites are best for your home décor. There are many different types of wood polish on the market, but the most popular are PU (polyurethane) and polyester. Both of these finishes offer a high level of protection for your wood surfaces and can provide a luxurious look. Today, more and more people are showing their interest in high-end wooden furniture. Such furniture are not only beautiful and stylish, but it is also very durable and can last for many years.
Both PU and polyester finishes will provide long-lasting protection for your wood surfaces. However, you may want to consider the pros and cons of each before making a decision. Consider your lifestyle and how you will use your furniture when choosing the best finish for you. There are a few differences in the parameters of type, finish, applications, advantages, disadvantages, and durability. Since both coatings bring come in transparent and pigment range and create a protective hard layer to the furniture and hence arising a question of which one works better? Here's a quick breakdown of the differences between PU and polyester wood polish based on major parameters.

Components:
Polyurethane (PU) paints and polishes (2K PU) are two-component coatings (Resin and Hardener) that are strong and can be applied to primed or stained surfaces. PU is a synthetic resin that is applied as a coating to wooden and metal surface. It forms a hard, durable surface that is resistant to scratches, stains, and UV damage. Because they are moisture-cured, they will actually increase their performance and strength when exposed to moisture and humidity.
Polyester polish is based on a three-component product. It is made utilizing Resin, Catalyst (peroxide-based), and Accelerator (usually cobalt). Polyester resin react with the accelerator and the catalyzer and generate a highly resistant film that endows the surface with a high level of hardness. This creates a harder surface than PU and more resistant to scratches, and stains, and doesn't react with most of the chemicals. It is best for a closed pore topcoat to highlight contemporary furniture for a lustrous mirror-like and Hi-gloss finish.
Qualities of PU Polish and Polyester Polish
PU (polyurethane) polish is a clear finish that protects and adds shine to wood surfaces. PU (polyurethane) polish comes in a wide range of finishes, they come in various sheen (gloss) levels ranging from 95%(Hi-gloss) to 5%(Dead Matt). It forms a hard, durable surface that is resistant to scratches, stains, and UV damage and has chemical and physical resistance properties. PU polish qualities are quick-drying, self-leveling, versatile, great durability, high clarity, high impact resistant etc. Exterior PU polish and coatings are more durable than any polishes you've ever used. They are long-lasting and easy to clean, and they will not crack, chip, peel, or fade with time. It will survive even the worst UV conditions. 
Polyester paint & polish (here paint is pigment or opaque and polish is clear) is luxurious wood coating that provide a long lasting and highly reflective sheen (lustrous mirror-like finish) to wood surface. Multiple layers (8-12) of coating give high dry film thickness from 1.5 – 2mm and glass like finish. Particularly suitable for closed-pore top coats, they make it possible to achieve a coating film with excellent chemical/physical resistance. Polyester coating qualities are rapid dring, reduced yellowing, high solid content, highly durable, Hi-gloss finish, glass like finish, fraffinated (wet on wet applicaiton), long lasting sheen, superior elasticty, ease of sanding, easy buffable and much more.
Area of Use (PU Coating & Polyester Coating)
The High versatility & resistance of the Polyurethane make it ideal for all surfaces PU polish retaining its sheen over the years and providing the desired aesthetic quality. Polyurethane coatings can withstand to a high levels of wear and tear. PU exterior polish is perfect exterior wooden surface and it provide the use. PU polish goes good with types of wood, veneer and laminates. And PU paint (pigment) goes good with all types of wood,MDF, HDHMR metals, plastic and glass furniture, and is also ideal for industrial applications.
Polyester polish (Transparent and pigment) provides great protection against damages also gives wood a luxurious finish. Polyester coatings are for interior purpose only, not for exterior. It is moreover use on wooden furniture especially on flat areas of the item like the top of the table so in today's era its application increases in residential houses. It is perfect for every project, be it residential, commercial, or a hospital. And it always brings an excellent shine to the product.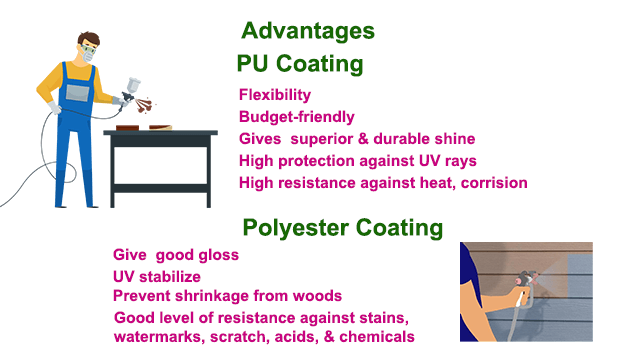 Comparision
PU coating is good in class which provides excellent flexibility. As it delivers a strong coat, PU polish or paint is in high demand as compared to polyester polish beacuse it is budget-friendly than polyester polish. Though it comes at lower rates, this increases its demand in the market. A variety of finishes is achievable from dead matt to a very high gloss, smooth finish, and high solid coatings. It brings high protection against UV rays and weathering. Talking about mechanical properties, the PU coat contains high resistance against heat, excellent hardness, in-depth clarity, and corrosion resistance. Versatile properties like good electrical insulating, low odour (water-based), and environment-friendly characters are also possessed by PU coatings.
The polyester coating is majorly use to give a excellent shine and luxurious look to the wooden surface or you can say that it is use to add beauty to the furniture. On interior woodend surface polyester polish generate a highly durable and highly resistant film that endows the surface with a high level of hardness. It brings a good level of resistance against stains, watermarks, scratches, acids, and chemicals. It can also prevent shrinkage from the woods of furniture. Polyester coats are also UV stabilized. Even being costlier than PU it is the first choice for HIgh-end and luxurious furniture.
Comparision Chart of PU Polish & Polyester Polish
| | | |
| --- | --- | --- |
| Properties | PU Paint & Polish | Polyester Coating |
| Finish | From Matt to Hi-Gloss | Hi-Gloss (Glass like finish) |
| Clear & Pigment | Both | Both |
| Thickness | Less than 1mm | From 1.5 mm to 2.0 mm |
| Resistance | Stain, UV, Scrates, Chemical & Physical | Stain, UV, Scrates, Chemical & Physical |
| Durablity | 10 -15 years | More than 15 years |
| Cost | Cost less than Polyester | Costlier than PU |
| Visual Apperance | Premium and Luxury | Luxurious and Elegant |
| Coverage per liter | 25 Square feet | 4-6 Square feet only |
| Good Brands Name | ICA, Sirca, Kapci, Asian Paints, MRF | ICA, Sirca, Asian Paints |
| Yellowing | May turns yellow after few years | Reduced Yellowing, Hard to turn yellow |
| Liquid Transparency | Translucent | Translucent |
| Skilled Manpower | Easy to get | Very rare to find |
| Coating Surface | Wood, MDF, HDHMR, Metal, PVC, Glass Furniture, Ceramics | Wood, MDF, HDHMR |

Conclusions
Both PU and Polyester coatings offer a high level of protection for wood, and a luxurious look to furniture. Both PU and polyester wood polish may have their pros and cons. PU is cost-effective yet durable and resistant to scratches, but it can yellow over time. Polyester is flexible, durable, resistant ro scratches and less likely to yellow, but it bit costly than PU. PU polish is a heavy-duty full package product that offers complete protection for your surface whether interior or exterior with maximum durability. Polyester coating in terms of finish, hardness, high gloss, scratch resistance, and adhesion is the best available in the market. Due to these properties, polyester is a preferred choice in the luxury furniture segment but not for exterior applications.
It really depends on your personal preference and the look you're going for. No matter which type of wood polish you choose, make sure to follow the manufacturer's instructions carefully. Also keep in mind that, applying too much or too little can affect the finish and how long it lasts.
Hire Home Glazer for PU & Polyester Polish Services
Looking to keep your wood surfaces looking their best? Then you should to check out our wood polish services.At Home Glazer, we offer both PU and Polyester wood polishes, so you can choose the option that best suits your needs. Our PU and Polyester wood polishing services are the best in town!. Plus, our team of experts will ensure that your surfaces are left looking their absolute best. Our team is dedicated to providing the best possible wood polish service and uses only the latest equipment and products to achieve the perfect PU and polyester polish finish. We provide the best PU Polish services in the market at an affordable price.  Contact us today to know more about our wood polish services or schedule an appointment with our expert!
Relevant Posts