Everyone wants to give a fresh look to his house. Getting the walls of the building/home painted gives a fresh and new look to any structure. Painting is undoubtedly the best way to give an ambient and new-like space to your old house. It gives an instant new-like feel. Once you decide to get your home painted there are so many things that need to be kept in mind. It's more than just choosing the brand and shades as per television ads or going on a friend's recommendations. It is not just the paint but rather so many add on which get out the ultimate results expected in your mind. But to achieve the expected result on the wall you would need to apply at least two coats of putty on the wall before painting.
Wall putty is the answer to all your painting preparations. It makes the paint finish better and gives it a long-lasting touch and shine as well. Wall putty works like a primer before the paint much like the one used before makeup! It also makes your overall painting experience for your house much more cost and time effective and gives a satisfactory approach. Wall putty makes the painting strong with good lectures, before going on for a painting plan for your living space; it becomes quite vital to know all about wall putty.
What is Wall Putty?
Putty is made up of cement and is used before painting to make the wall smooth and make the surface much more even and helps to get rid of any kind of uneven surface. It even helps in filling the minor space and gaps in the wall so that the paint can be applied evenly and gives a dilating look to the wall. It is the preliminary step and is given a lot of priority these days by the Home Glazer! Generally, depending on the conditions of the wall one can choose the number of coats required but mostly two coats are sufficient to get the desired results.
While going for repainting the wall, it is not required to apply the wall putty fully, on the whole, the surface. Instead, it can be applied by choosing wisely over the damaged or cracked areas. Wall putty comes with a plasticity property and is similar in texture to the clay. It even adds a protective layer to the paint. Due to its clay-like texture, it acts as filler for the cracked and damaged walls.
It is generally off-white and can be easily applied before any colour is going to be painted on the wall. Nowadays we can find different colours and consistency in the market and chooser as per our needs and depending on the wall to be painted. The best part about applying wall putty is its super flexible and convenient usage. You do not need to worry if the wall is new or old before applying the wall putty.
Benefits of Wall Putty If Applied on the Wall-
It gives a smooth surface for painting which becomes easier to paint the wall using painting rollers or spray machines or any other new technique to give that ultra-modern chic look to the wall. This serves the purpose of a bonding agent between the wall and the paint and makes the paint go smooth on the wall. It gives an undulating finish to the wall by filling in the cracks and damages in the wall before painting.
Enhances the life of the paint
It increases the shelf life of the paint and thus is considered a one-time investment that makes the painting last longer and thus cost-effective. It also adds to the water and dust resistant capacity of the wall which overall makes the paint last a few more years.
The flexibility with which it comes makes it user-friendly. It can be easily used on your interior or exterior, old or new walls without an inch of a second thought. But at Home Glazer, we advise exterior waterproof putty on the exterior wall surfaces.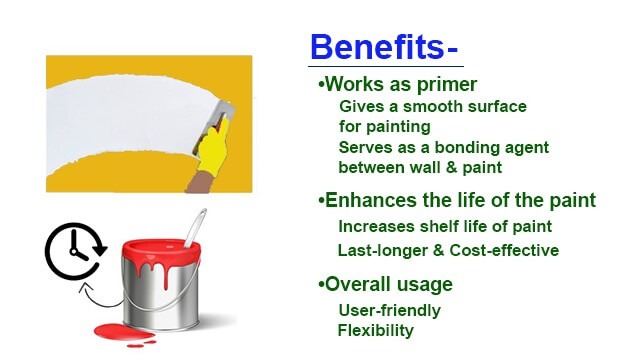 Variety of Putty is Available in the Market- You can easily choose the wall putty as per your needs from a wide range depending on your walls. Whether it's interior or exterior, old or new. Here is some mainly used putty in household.
White Cement-based Putty
This is the most widely and commonly used wall putty. It consists of white cement as the name suggests. Along with other minerals and polymers' has a smooth and glossy texture. This can be used easily for both interior and exterior walls.
It gives a white coating to the wall and adds to the brightness while enhancing the smoothness of the wall at the same time. Since it is cement-based putty it acts as a good binding agent and is resistant to dampness as well. These properties make it common amongst the users for a hassle-free experience with promising results.
It is also good in strength due to cement and promises a good tensile adhesion strength and compression strength along with binding strength. It resists there growth of algae and fungi on the wall too making the paint last longer. Due to its low absorption capacity, less paint is required which makes it cost-effective as well.
It is low maintenance, nontoxic, and well suited for all types of paint.
Acrylic Putty
It is water-based putty made from components like white pigment, acrylic emulsion, and additives.
This putty has a lower binding capacity than cement-based putty.
It is not that resistant to water and has lower strength as well. This comes in form of ready-to-use and gives an ultra smooth finish. That ultra-smooth finish of putty is ideal for luxury and ultra-luxury emulsions.
Because of its low absorption quality, it takes less paint in the painting process.
This is preferred for its quick-drying property which makes the painting process fast. It is suitable for all kinds of paints and economical too.
Conclusion
Contrary to the belief that paints selection enough is vital for the painting process. The prior step of making the wall ready for the paint by applying putty over it becomes much essential. This extra effort taken by Home Glazer will be like an investment that will always make you smile at last.
What can be more satisfying than giving life to the walls of our dream home by applying wall putty to it! Trust us; we will glorify your walls and create a beauty worth living! Contact us today to experience the real hassle-free painting services.
Relevant Posts