When you risk everything to build up your dream home from laying brick to making it stand, you won't want to take the chance of making any mistake. Yet, most times painting a home is a point where people make mistakes unknowingly. The colour of a house is attached emotionally to the family, so extra care and attention must be paid while painting. Home Glazer has brought you a few things which one must avoid during the span of painting a home. Let's discuss them.
Not Considering Colours: Many homeowners worry that a unique colour scheme will end up costing more. Fortunately, that's not the case! Applying a little imagination to the selection process won't stress your wallet any more than choosing a neutral shade would.
Buying cheap paint: Everyone likes to save money on home repairs and don't hire the best painters. But, buying low-quality paint can cost you more in the long run. Low-quality paints are applied with thinner to give tint and desired colour more coats will be required.
Don't Misplace the Accent: There are corners, strips, and similar texture portions in the house which requires accenting. Accenting is great, but only to highlight the more attractive elements of your home. Our professional painters will help you avoid drawing attention to drab features like gutters, air conditioning units, or unevenly placed windows.
Not Considering the Latest Trends: Trends in exterior paint move at a snail's pace. The painting colour you choose today for your home is very likely to still be in style tomorrow, or ten years from tomorrow. White used to be the "safe" choice, but more and more homeowners are experimenting with colour and tinted neutrals. Tour a few neighbourhoods to get a sense of what others are opting for. Also, you can contact Home Glazer to have a glance and go through the wide range of combinations that suit the latest trends.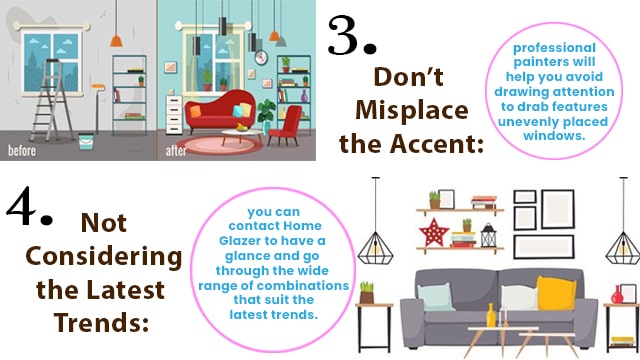 Don't ignore your neighbours: While it's a good idea to get creative. But, it's usually a bad idea to pick colours that will clash with your neighbours' exteriors. You can always stand out, but try to do so in an unobtrusive way!
Ignoring furniture and floor protection: Take furniture out of the room before painting. And use a plastic sheet to cover the floor or any furniture.
Keep away your pets during painting: It is good to love and care for a pet but while painting your home. Pets can cause unnecessary hindrances. They may accidentally run into the bucket of paint or walk right into the rolling pin. Whenever possible, find a temporary home for your pets or keep them in a separate room while you paint.
Don't paint in a rush: Painting your house or office is a big deal, so plan accordingly! Try painting a small number of your main portions and accent colour choices next to each other on the hidden side of the house. That way, you can test how your scheme is coming together.
Ignoring the fact that professionals do it better: You may assume that it is economically in your best interest to do the work yourself. But most of the time finding and hiring professional painters can save you money, time, and a headache. Professional painters always know how to get things done correctly, efficiently, and safely. Consider getting a quote from a professional painter (or several) and always make sure they are insured.
Final Words
We, at Home Glazer, stick with these things as a basic principle before signing the deal with you. We know how to paint and offer a wash, any repairs you have to make which might involve sanding or priming, and a couple of coats of paint. Home Glazer has been providing the best and hassle-free painting services and takes care of the fact that this is your dream house and we work assuming your task as our own. Contact us today!
Relevant Posts