The condition of the walls reflects the dweller's personality and this is why choosing the most reliable painter becomes a necessity. When you decide to get painting your home, you load with so many options available in the market regarding the type of paint. Generally, people get confused about the basic type of distinction. These distinct quality paints have further classifications which take us into a blurred world. To avoid such situations and understand things from the base. We have elaborated on the basic meaning of Distemper paint and a Tractor Emulsion in this article. Both have their own merits and demerits of application.
We have tried to cover almost everything from our expertise and clients' responses over the years. Let us have a brief understanding of both of them and study the difference:
Distemper Paint
Distemper is one of the oldest types of paint which is made up of a combination of inappropriate qualities of chalk, lime, water and pigment. In addition, it is bound with animal glue or the adhesive qualities of materials. These materials include casein and resin which is a product formed from the solidification of milk. Commonly, Distemper paint is also popular as cement paint in the market. This is due to its unique quality. Professional painters can directly apply the distemper on cement walls without going through the process of coating any material or primer on the wall. Even the application of primer is not necessary if you choose to paint walls with Distemper.
Distemper is a common man's choice as it is cheap to buy and stays perfectly on the walls for more than 2-3 years. Moreover, painters around you need two coatings to apply the Distemper and hence the usage is also less. They can fit perfectly in the interiors as well as exterior walls.
Distemper is available in three types namely Acrylic Distemper Paint, Synthetic Distemper Paint, and UNO Acrylic Distemper Paint.
Acrylic Distemper Paint
Tractor Acrylic Distemper Paint comes in more than 1000 shades to choose from. They are water-based paints for interior walls and give a smooth matte finish. Acrylic Distemper Paint stays for a long time on the wall. The combination of copolymer binder in its mixture gives an excellent performance. It has the quality to dry up fast and is hence painters prefer it when the work needs to get done as soon as possible.
Synthetic Distemper Paint
Synthetic Distemper Paint is a water-based paint with compelling shades that offers sophistication to homes when applied. Its unique quality lies within the outer effect. This is because it gives a uniform matte finish. It is easy to clean with water if any dust accumulated on the wall.
UNO Acrylic Distemper Paint
Suitable for interior walls, UNO Acrylic Distemper is a water-based paint. It is reasonable and accessible in more than 950 different shades. The walls look new for a longer duration as Acrylic Distemper offers a smooth matte finish. The shades tend to retain their brightness and hence the paint has been favoured by many. The stains are easy to clean with a smooth wet cotton cloth.
Advantages of Distemper Paint
No requirement of prior quoting or application of primer
Affordable when compared to other types available in the market
Life of the paint in more than 3-4 years
They have a distinct smell
No cracking up of walls during sunlight
Disadvantages of Distemper Paint
Lacks quality when compared to other types of paint on the market
Peels off when wet
Not completely washable and hence hard stains persist
Distemper paints fade away with time. Sooner than emulsion paint
Tractor Emulsion Paint
Asian Paint Tractor emulsion gives a deluxe quality sheen finish after application. This is because it is a paint that has a higher quantity of plastic mixture in it. As the distempers had more quantity of water, it peeled out in years. Moreover, it did not give a sheen and shiny finish. Hence, as the technology advanced to make a paint that will last for a longer time, mixing plastic became common. Not only did the quality of the application taken care of. Asian Paint also took note not to come out with an expensive product. Hence, Tractor Emulsion is affordable for the common man. In addition, it gives more paint coverage than any other paint today in the market at that price range. A regular distemper will be of no comparison when it comes to the Asian Paints Tractor Emulsion.
To understand numerically, a tractor emulsion will give 1.5 times more coverage when compared with a distemper. Therefore, it is easy to understand that Tractor Emulsion is cheaper, durable, and supreme in front of a Distemper Paint. To make it more effective, Tractor Emulsion is made with utmost care as it comes in lead-free Matt and has over 1800 shades to choose from. There is the only thing is that Tractor Emulsion comes in lighter shades.
Tractor Emulsion comes in four types namely Tractor Emulsion Smooth wall finish, Tractor Emulsion Advanced, Tractor Emulsion SHYNE, Tractor Sparc Economy Emulsion.
Tractor Emulsion Smooth wall finish
Asian Paints Tractor Emulsion Smooth Wall Finish has been made to formulate long-lasting and modern finishes on walls. It gives a matt and soft sheen finish option which brings out a rich look. It also gives a much higher coverage over distempers.
Tractor Emulsion Advanced
Tractor Emulsion Advanced comes with a Superior Anti Fungal Shield which gives a smooth finish to the wall. It is a smart choice if you have previously used distemper.
Tractor Emulsion SHYNE
Tractor Emulsion Shyne gives a luxurious sheen finish and is an affordable emulsion for interior walls. It provides more paint coverage than regular distemper and offers a wide range of shades which makes a home unique. With 3 years performance warranty, Tractor Emulsion Shyne keeps your walls shining for a long time, and thus keeps the compliments coming.
Tractor Sparc Economy Emulsion
Tractor Sparc Economy Emulsion is an interior paint that provides value for money, especially when compared to distemper. Asian Paints Tractor Sparc economy emulsion gives a smooth finish to the walls when chosen for renovation of home.
Advantages of Tractor Emulsion Paint
The Tractor Emulsion has a longer duration when compared with distempers. Many a time, they can stay on the wall for more than 3-4 years.
Tractor Emulsions have a better smell.
It does not dry or crack due to sunlight.
The finishing quality is way better than distempers.
Tractor Emulsions do not peel off while drying.
Tractor Emulsions are washable and will not fade with time.
Emulsions can be painted on wooden surfaces and lining papered walls.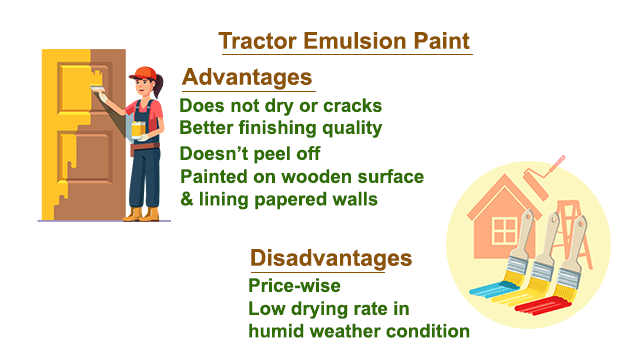 Disadvantages of Emulsion Paint.
Price-wise, emulsions cost higher than distempers.
Emulsion paint will require primer and putty in surface preparation.
Emulsions have a low drying rate in humid weather conditions.
Why you should hire Home Glazer?
At Home Glazer, we promise to offer affordable painting services at the cheapest prices. Our team of painters delivers magnificent services to all customers as our mission is to grow via word of mouth. If you like our service, you will recommend it to others and thus we will grow. Hence offering superlative service to every client is in our favour. Painting homes will create a fresh look and transform bare walls into beautiful homes. It is important to find a professional painting contractor for an excellent house painting service.
Home Glazer believes in the best painting service that never compromises on quality. Even the cheapest paints are of top-quality and hence affordable by every household. As every household requires a fresh quote in a few years, contacting professional painters will give your home a new feeling and become a value for money.
Contact Home Glazer, the best professional painters for a remarkable painting experience. We are the best house painters near you.
Relevant Post