Tips to Check the Paint Job
Getting a paint job at your place is really tricky. Though it sounds easy when you hire a professional painter for doing the work still you have to be careful about the necessary precautions required during the whole painting process. Even though they all are professional painters yet a simple mistake can cost you the looks and design of your room. Be it your home or your workplace, a well-finished room creates a different aura for your personality. Just like self-grooming, a perfect paint job is necessary to take care of when you are going to paint the whole area. Hence, a few quality checks of paint are a must to ensure a flawless job.
Steps and Tips to Examine the Job
Look for the paint colour chosen for your house. Check whether it is that same colour you have decided on the job or it's different. Thoroughly examine the quality of paint job, tint as well as shade of the paint. See whether the colour scheme had been strictly followed up or not.
It is necessary that the paint should apply evenly over the surface and not drip from anywhere. If it drips then immediately order to sand it down and retouch that surface as it may create a sagging defect.
Check whether the paint has been applied evenly and uniformly over the surface or not. It should be free from any sags and runs that often appear over the surfaces after a hassled paint job. Wall should be smooth and perfect. Run your hands over the surface to detect any imperfection.
4. Original colours must get evenly cover the new colour coat. Not even a single shade should be transparent from the new coat.
5. Edges, as well as walls, should make sharp and straight lines run smoothly with the paint. Clear uneven lines are signs of imperfect workmanship in the painters.
6. Look whether the caulking has been done or not on the surface. Wall should be leakage proof and no trim is required to remain behind the surface as it may damage it.
7. Coverage of the paint coat should be even, especially around doors and window corners.
8. A remarkable quality of a perfect paint job is its clear cut colour separation. The lines in between the ceiling, trim, and walls should appear clean, straight, and sharp, giving a perfect fit appearance.
9. It is necessary to check around at the corners of doors, sidewalls, and window corners, freshly coated with paint.
10. All of the unwanted nail holes, cracks, peeled old paint along other defects should get repaired during a paint job to avoid any dull and imperfect look in the newly painted walls.
11. Check out the paint coatings near switch plates as well as outlet covers as painters tend to colour them two inflow of their ongoing paint jobs.
12. Visible paintbrush marks along with other spots should not be visible to get a uniform coat. If present then immediately apply another coat over it to hide those marks and patches.
13. Inspect the door and window frames along with your interior wardrobe walls because unorganised painters neglect these common areas. Also, check for other left unpainted surfaces including four sides of window grills.
14. Last but not least, check whether all of the paint spots have been effectively clean or not from the surfaces of the floor, window glasses, grills as well as switch plates.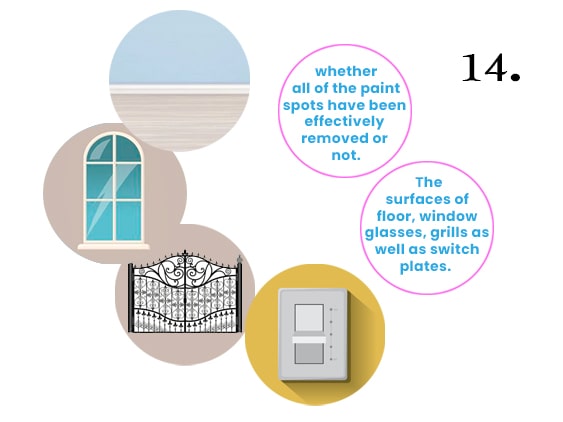 Paint Job Mandates
Along with hiring a team of professional painters, it is necessary to do a bit of research homework yourself so that you can check out the workers during their job. Since the place belongs to you, it won't be a convincing decision to lay all of the workloads over them. It too is your liability to aid them well with the suggestions and products to get yourself a nice paint finish
Check out the quality and testimonials of the painting contractor you are going to hire for the paint job. Do check about their ratings and suggestions.
Never try to negotiate between the price and quality of paint. Choose the best at the best available prices. Remember you'll get what you pay for.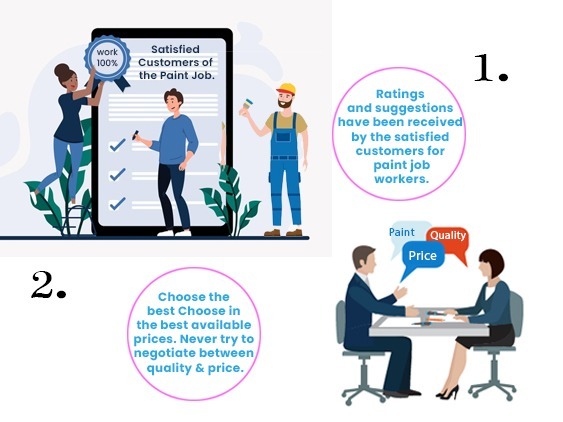 Regarding the paint theme and design, it is recommendable to consult the experts before starting to paint. A well professional and experienced painter will know about the walls and necessary repairs demanded before the task.
Try to choose the best quality paint materials fitting into your budget for the perfect paint job. It should include branded paint and finishing equipment, tools like paintbrushes, rollers and covers, necessary oils, etc. to avoid any accidents.
Keep a safety kit nearby always
Conclusion
Though after-paint quality checks are mandatory yet it is advisable to keep timely checks during the working procedure to avoid any after-work disappointments. Moreover, try to cooperate with the workers so that they can easily share the necessary operations required at your place. Hiring a professional team of Home Glazer will always give you a real hassle-free and perfect painting experience. At Home Glazer, we always follow all the necessary precautions during the painting process to ensure the safety of our workers and the final finish. We take our mandate to protect our clients and their property seriously. Our trained painters take a number of measures to avoid any potential problems, including using the right paints and taking care while applying them. We also use specialized equipment to make the process as safe as possible. If you're looking for a reliable painting contractor, Contact us today!
Relevant Posts