Everyone wants to give a luxurious texture to their wooden furniture and to protect them from scratches and stains. DUCO paint and PU paints are used for the same purpose. They have high resistance against heat, excellent hardness, in-depth clarity, and corrosion resistance. They also protect the furniture against UV rays and weathering. Applying them gives a smooth and glossy and matte finish to the furniture. Both these paints have almost similar uses that it is really hard to differentiate them from each other.
Through this article, Home Glazer will provide detailed information about both paints mapping out their differences and similarities.
✓ DUCO Paint
DUCO paint is the finishing element that we apply to wooden furniture during the making process. The main purpose of DUCO paint is to hide the wood grains. It also provides a decent and luxurious look to ordinary furniture. DUCO paint also finds an application in painting automobiles.
✓ PU Paint
Wooden furniture provides a classy look to your house and enhances the decor of the home. But before installing it, a proper finishing has to be done and PU paint is used to give a final finish and provide a fine finish to wooden furniture. The PU coating prevents the furniture from moisture, scratches, dust, water, and provides a beautiful look to the wooden furniture. It can be applied easily and it is an easier way to give a classy look to your furniture.

Differences between PU and DUCO paints.
Although both PU paint and DUCO paint have many similar Properties and applications still they are quite different from each other in terms of their composition, their range of applications and many more. One is environment friendly while the other is not; one requires extra care while the other requires more labour. The main points of distinction between them are-
1. Composition of paints.
The main element in DUCO paint is Nitro Cellulose (NC) and it is easily available in the market. Mixing it with thinner yields the best result.
PU paint is either solvent-based or water-based which comes either as mono-component or bi-component (1K PU or 2K PU)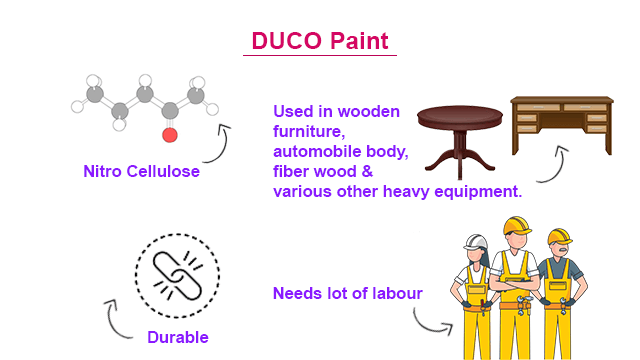 2. Applications
DUCO paints have a wide range of applications. They found their use in wooden furniture industrial metal structures, automobile bodies, fibre wood, metal sheets and various other heavy equipment.
PU paints are ideal for industrial applications. They are highly recommendable for interior and exteriors. For coating exteriors, solvent-based PU is used and other than the wooden article it is also applied on metal, plastic and glass furniture.
3. Miscellaneous
In terms of durability, PU paint is much more durable than DUCO paint. PU paint becomes darker over time while DUCO paint becomes slightly yellowish when exposed to sunlight for a long duration.
This

PU paint provides a more luxurious finish as compared to DUCO paint

.
PU paints are much durable and provide better finishing than DUCO paint that's why PU paint is expensive than DUCO paint.
Applying DUCO paint needs a lot of labour and while PU paint (solvent-based) needs a lot of labour, time, and hard work.
Similarities between DUCO Paint and PU Paint.
Both paints are quite similar to each other. They both have almost the same application process and also various other properties. Some basic points of similarity between them are:
The primary application of both paints is to provide a glossy and matte finish to the surface.
Both coatings protects the wooden furniture from weathering, UV rays, etc.
Both Coatings are water and heat resistant. Moreover, applying them over a metal surface protects it from corrosion.
Both coatings are water-resistant and protect wooden furniture from water and moisture.
To apply, both need a combination of equipment, spray guns, and compressors for instance.
They both are good electrical insulators and they have low or nearly no odour at all (once completed).
Both require additional care while preparing their base and applying it on the surface.
Duco and PU coatings are flammable.
Duco paint and PU Paint furniture look good with the interior. Home Glazer assure you that your home will look modern and luxurious if you choose our wood coating service for your home. If you are looking for professional painters who can get you the quality finish for your renovation project, Contact us today!
Final Words
If you are looking for a reliable and experienced Duco or PU coating services provider, Home Glazer is the best provider around. We are the best in business and have a team of skilled and experienced wood polishers who can help you get the perfect finish for your furniture or wood products. Apart from DUCO and PU we provide all other types of wood polish services too (Melamine polish, Clear and pigment Polyester polish, Lacquer polish etc.). Contact us today to know more about our wood polishing services.
Relevant Posts